Product Line // Solaris Angle Brooms for Skid Steer Loaders
Solaris Attachments now offers six different models of angle brooms for skid steers, wheel loaders, backhoes, and telehandlers. With each model you will enjoy performance, reliability and durability. Each model features an array of heavy-duty polypropylene bristles to push debris aside. These angle brooms are designed for manual or hydraulic movement. This system can move 30 degrees left or right.
▼▼▼ SCROLL DOWN TO LEARN MORE ▼▼▼
Meet Our Angle Brooms for Skid Steer Loaders
Solaris Angle Brooms
If you are looking for a reasonably priced, durable angle broom that will last you many years, this is the one! These skid steer attachments are made to work 24/7/365 and will increase your productivity. Rental dealers will benefit from these industrial angle brooms as well due to their reliability and heavy-duty construction.
Speak with one of our attachment consultants today!
We offer six different sizes that can fit any skid steer, wheel loader, backhoe or telehandler. Whether you have a standard flow, hi-flow or older skid steer, we offer the perfect angle broom for your needs.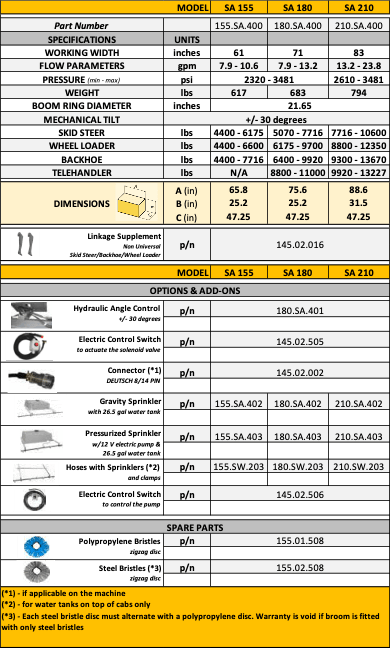 Solaris Angle Broom Key Features:
Angle Broom sweeps to the left or right without a collection bucket. Standard features include:
Broom with zigzag polypropylene bristle discs with a floating device
Direct Drive hydraulic transmission on broom shaft
Mechanical angle control – 30 degrees left/right
Universal quick attach
Hoses with couplers