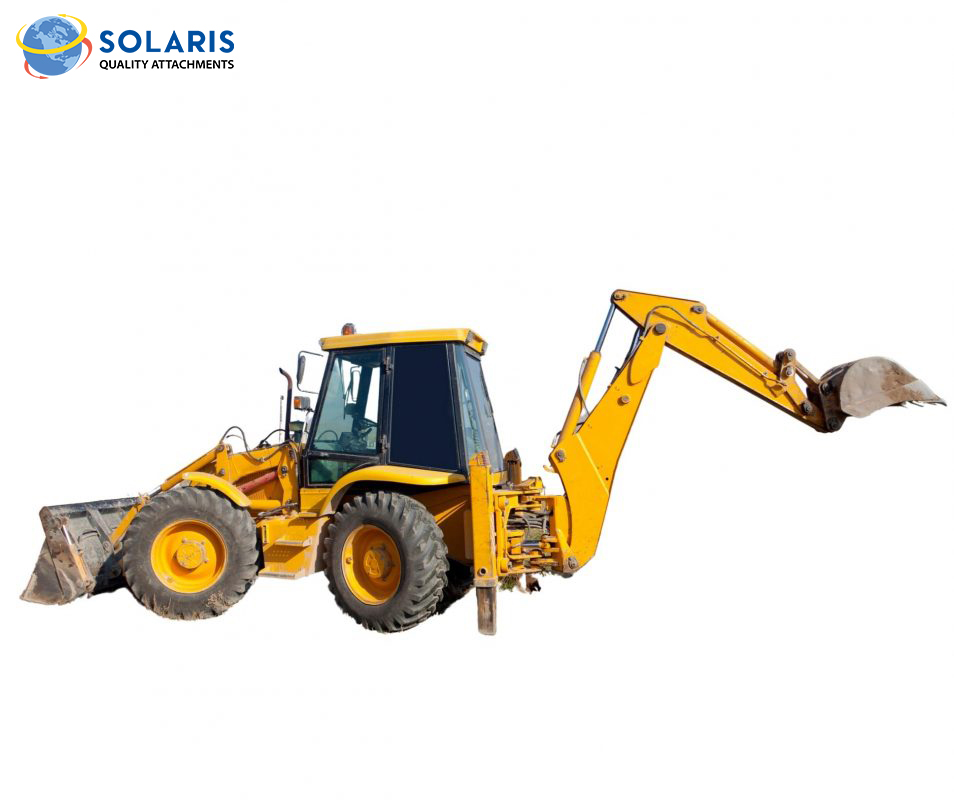 Quality Backhoe Attachments
A backhoe is a type of heavy construction loading equipment that appears a bit like a tractor but is equipped with a loader-style bucket on the front and a backhoe in the back.
Backhoes are an important piece of equipment that can handle all types of landscaping jobs, including uprooting trees, transporting them to another location, and even keeping their roots intact. This equipment is also used in construction projects and can be used to move rock, boulder, and gravel as well as push dirt and topsoil in place.
Backhoes are great for digging post holes for fences and can be helpful during minor excavation jobs like digging out a small water feature. In some cases, contractors also use backhoes to dig trenches for irrigation and sewage lines.
Backhoe loaders consist of a tractor, a loader, and a backhoe. Each of these components is well suited for particular types of jobs, and on a construction site, the backhoe driver makes use of all three of these components.
▼▼▼ SCROLL DOWN TO LEARN MORE ▼▼▼
Benefits of Backhoe Loaders:
Backhoe loaders are one of the most important types of equipment in the construction and earthmoving equipment category. These machines are versatile and can be used for a wide range of purposes. Not only can these machines easily travel from one place to another on the road, but they can also be attached to various components.
Some of the benefits of a backhoe loader are given below:
Versatile and multitasking
A great tool for digging ditches, installing underground cables, and laying pipes
Comes in a range of sizes
It is useful in projects that involve working on various types of terrain
Allows easy adjustments of attachment
Can easily move over rough terrain
Reduces labor cost
Operator-friendly and has a safe design
Range of Applications:
Landscaping
Backhoes are excellent choices for landscaping projects. Thanks to the hoe at the back and the bucket in the front, these machines can easily dig gardens, pools, and foundations but are also very useful in transporting plants, rocks, and trees from one place to another.
Backhoes come in a wide range of sizes and can be fitted with attachments that can make them multipurpose tools for all sorts of landscaping projects.
Farming
The various attachments that can be fitted to a backhoe make it a useful farm machine. Augers, auger drives, sweepers, rippers, hammers, and brooms can all make backhoes a truly versatile machine.
Backhoes are great for farming and can be used for digging holes, tilling the soil, building fences, hauling material, and more.
Since a single machine can do all of this, it is beneficial for farmers who do not have a lot of storage capabilities.
General Construction
Many construction projects also use a backhoe for short-term tasks. Although most construction companies use special heavy-duty machinery for various projects, backhoes are great pieces of equipment that can be used if the project involves quickly changing tasks.
This is a machine that can manage a new task every few hours, which means it can help construction contractors reduce their costs.
Backhoe loaders are a popular type of equipment and are used for a variety of tasks, including:
Construction
Light transportation of material
Small demolition projects
Excavating and digging holes
Asphalt breaking and road paving
Landscaping
The bucket on the back can be replaced with powered attachments like an auger, grapple, breaker, or stump grinder. Many backhoes also come with quick couple attach systems that allow for fast mounting, increasing productivity and efficiency on the job site.
Some loader buckets also come with a retractable bottom or a clamshell that can be used to unload material more quickly. These types of loader buckets are also useful in scraping and grading projects.