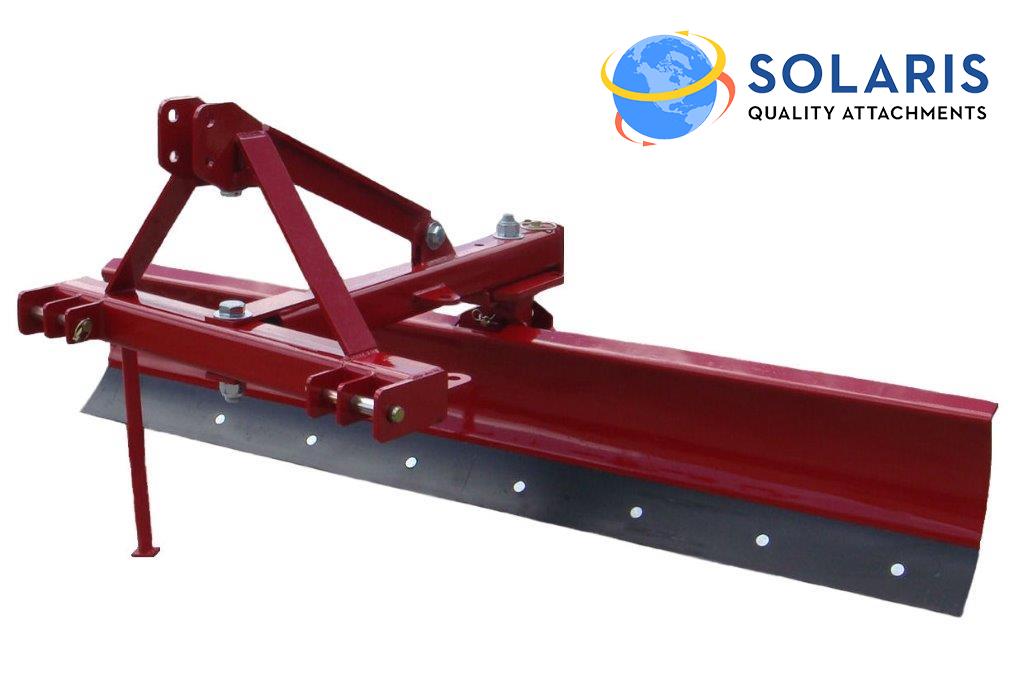 Rear Blades for Tractors
As a commercial construction, landscaping, or farming business, you must keep a perfectly manicured lawn. At Solaris Attachments, we offer our high-quality standard-duty rear blades that are ideal for landscapers and farmers. Our rear blades are compatible with tractors with Cat. 1 hitches.
▼▼▼ SCROLL DOWN TO LEARN MORE ▼▼▼
Meet Our Solaris Rear Blades for Tractors
With the Solaris Attachment Rear Blades, you will have the confidence to tackle tough projects from grading landscape to removing snow. Our rear blades are engineered to connect directly to a Category-1 3-point hitch and do not work on hydraulics. Thanks to its multiple angle settings, you can easily get the perfect angle for doing a job simply by pulling a set of pins.
The rear blades from Solaris Attachments offer high performance, precision, and efficiency when it comes to grass and snow buildup without sacrificing the integrity of the blades. The blades are equipped with high-treated carbon steel, ensuring the longevity and reliability of the rear blades
Solaris Attachments Rear Blades are compatible with tractors with Category 1 hitches and are compatible with most similar models.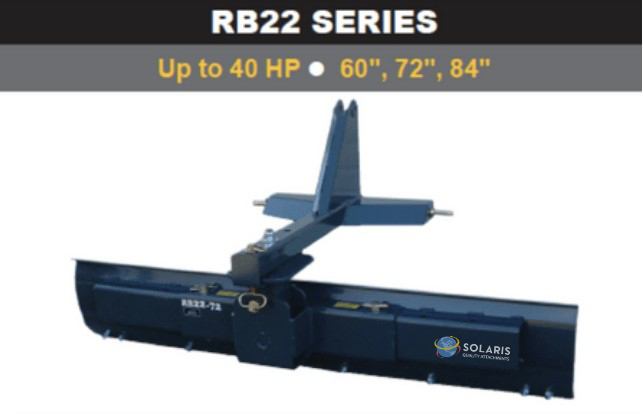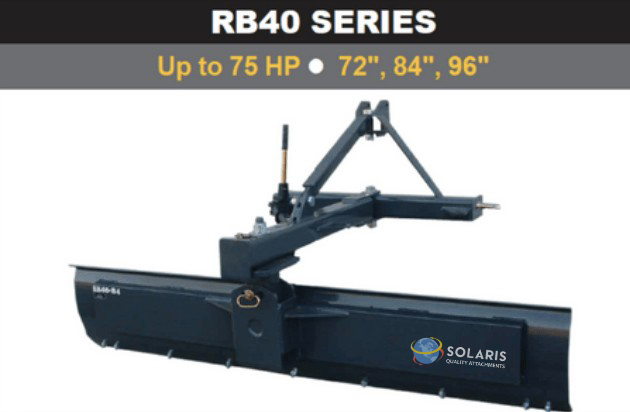 Hitch Type: Category 1 with flexible height blades
Type of Moldboard: Roll-formed precision moldboard for better soil loading and unloading capabilities
Type of Cutting-edge: High carbon ½ inch x 6-inch single bevel cutting edge (reversable)
Angle Settings: 3 forward settings and 3 reverse settings
Finish: Powder coated with tractor-matching colors
Optional Equipment
RB10 Series
Up to 24 HP – 48″, 60″
RB20 Series
Up to 40 HP – 60″, 72″, 84″
Quick Hitch Compatible
RB22 Series
Up to 40 HP – 60″, 72″, 84″
Quick Hitch Compatible
RB40 Series
Up to 75 HP – 72″, 84″, 96″
Quick Hitch Compatible
SOLARIS WARRANTY STATEMENT
The following limited warranty applies to products, parts and attachments ("Equipment") manufactured and sold by SOLARIS MARKETING NW, LLC dba SOLARIS ATTACHMENTS ("SOLARIS").
Subject to the terms and limitations herein, SOLARIS warrants that the Equipment will (a) conform to the design and specifications, if any, expressly agreed to in writing by SOLARIS; and (b) be free from defects in workmanship and materials for a period of two years from the date of delivery, provided that the Equipment is properly operated under conditions of normal use and subject to regular periodic maintenance. SOLARIS' obligation under this warranty is limited to repairing or replacing Equipment that is returned in accordance with the procedure set forth below.
This warranty extends only to buyers who purchased the equipment directly from Solaris, or one of its dealers as new merchandise. The warranty does not apply to attachments or components that are not manufactured by SOLARIS, though they may be covered by the manufacturer's warranty.
This warranty shall not apply to normal wear or to damage resulting from accident, abnormal use, misuse, abuse, or neglect, or to any attachments that have been improperly applied, improperly installed or modified without written authorization from SOLARIS. SOLARIS makes no warranty of merchantability or of fitness for a particular purpose in respect to this equipment. SOLARIS shall not be liable for any injury or damage to any person, place, or thing by reason of the installation, use or mechanical failure of any Equipment, nor any special, indirect, incidental or consequential damages of any kind, whether arising in tort or in contract.
WARRANTY REPLACEMENT PROCEDURE
All Equipment subject to a warranty claim must be tagged with an RGA (returned goods authorization) number. To obtain an RGA number, contact SOLARIS with the model and ID number of equipment and a brief description of the part being returned. Upon receipt at Eldorado, IL, shipping prepaid by customer, the part will be inspected. If inspection indicates failure was due to defect of material or workmanship, and the part failed during the warranty period, the part will be repaired or replaced and shipped prepaid by SOLARIS via ground service. SOLARIS retains the sole and final discretion to determine whether the Equipment is defective. The option of repair or replacement will be at the discretion of SOLARIS. SOLARIS reserves the right to make design and specification changes on replacement parts.
If a warranty or exchange part is not received within 30 days after the RGA is issued, the customer must pay for the part. No warranty consideration will be given on parts not tagged with an RGA number. No warranty consideration will be given on parts showing evidence of tampering or disassembly.
SOLARIS SHIPPING INFO: c/o Warehousing Pros 2600 Hart Street, Nashville, TN 37207
GOVERNING LAW, FORUM, AND VENUE
This agreement and the rights and obligations of the parties hereunder shall in all respects be governed by the laws of the State of Washington (without regard to the conflict-of-laws principles of such state). In the event of litigation arising out of or relating to this Agreement, the exclusive forum, venue, and place of jurisdiction shall be in the state of Washington.