Solaris-Cangini Stump Grinder
Once trees are removed, the stumps are left behind, which can cause problems for some industries. If left unaddressed, stumps can sprout regrowth or queue insects like termites and ants to take up residence. Additionally, stumps can leave terrain unworkable.
Stump grinders create a more workable terrain by using circular discs with teeth that chew the stump down to sawdust. As the stump grinder works through the wood, it will take the stump down below ground level, where it can then be covered up with filler dirt or residual sawdust.  
While the machine manufacturers offer an array of types of stump grinders like hand-guided, rear-hitch, riding grinders, skid stump grinders, and stump grinder attachments, Solaris Quality Attachments purposes to offer the best and most efficient stump grinder attachments for your excavators.
Solaris Quality Attachments now introduces Cangini Excavator Stump Grinders.
What Sets Cangini Apart
Cangini has a long-time standing reputation that precedes its products as a quality equipment manufacturer. Cangini has created an excavator stump grinder starting with excavators as small as 1.5 metric tons (3,300 lbs.) and as large as 13 metric tons (29,000 lbs.). WE offer three different models to fit nearly any mini excavator size. Now you can fit into backyards where it was previous impossible to get a dedicated stump grinder in to remove that stump. 
Stump Planer Attachment for Excavators and Skid Steers
Removal of tree stumps is a job that, at best, is noisy, messy, and time-consuming. Traditional methods of removal, and shower chippings over a wide area make cleaning a time-consuming exercise. The Solaris-Auger Torque Stump Planer is the quick and easy additional attachment to any earth drill for the practical, easy, and clean removal of tree stumps of any size and a must-have product for those working in ground preparation and woodland maintenance.
HARDENED STEEL BLADES

Hardwearing, replaceable blades rotate, shaving the wood into a tidy pile.

HUB OPTIONS

A range of different hub options.

STABILITY BARS

A balanced, even cut is achieved thanks to the built-in stability bars.

HARDENED STEEL PILOT

The unique, replaceable pilot engages with the tree Stump, drawing the blades down to the surface of the stump.
MULTI-PASS CUTTING PATTERN

Tackle very large tree stumps with ease by making multiple cuts in a spiral pattern, starting from the outside and working towards the center.
All Solaris-Auger Torque attachments and equipment are warranted to be free from material, mechanical, or workmanship defects for a certain time (summarized below).
Planetary Gearbox: 72 months
Hydraulic Motors: 36 months
Other Parts and Products: 24 months
Note: The warranty is only valid if the product is attached, assembled, and used appropriately, according to the directions provided in the operator's manuals and other instructions. The warranty period will start from the date of sale by the distributor or manufacturer.
Multi-Pass Cutting Pattern
Tackle very large tree stumps with ease by making multiple cuts in a spiral pattern, starting from the outside and working towards the center.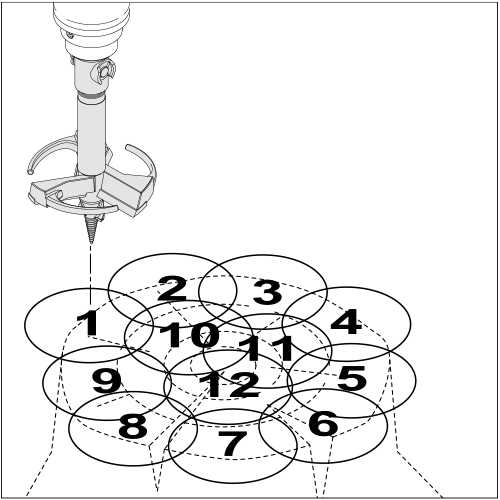 Specifications
Model
SP10 (For Excavators 1-5MT)
SP14 (For Excavators 4.5-8MT)
Auger Drive Compatibility
X2100-17 – 3300-30
4000-30 – 6000-40
Diameter
10″
14″
Length
25″
27″
Shaft Options
2.56″ Round
2″ Hex
2.5″ Hex
2.56″ Round
2″ Hex
2.5″ Hex
Unit Weight
55 lb
73 lb
The Solaris Excavator & Skid Steer Stump Planer attachment is the quick and easy land-clearing, construction, and forestry attachment to any auger drive for the effective and clean removal of tree stumps of any size. If you need to clear ground in preparation for projects or earth drilling, there is no better way to remove stumps than with the Solaris Excavator and Skid Steer Stump Planer attachment. Stump Planers are available in numerous sizes with a range of different hub options for different demands.
If you are a in the landscaping, land-clearing, or tree service industry, this is a must-have Excavator & Skid Steer attachment in your arsenal to maximize your profitability. Simply fill out the form below and let us know which make and model machine you have, and we will get back to you with a quote right away.
You can also give us a call – we would be happy to talk to you.