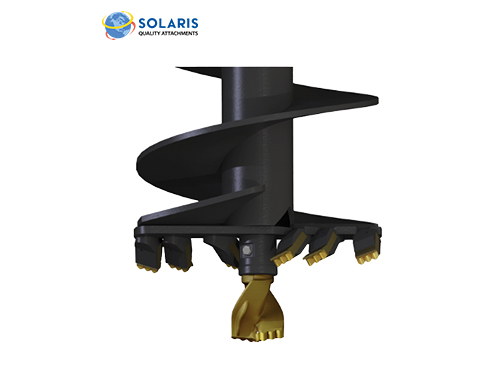 Harness Efficiency with Solaris S6 Auger Bits
Solaris Attachments proudly presents the S6-class Auger Bits, your solution for uncompromising drilling efficiency. Designed for use with Excavators and Backhoes ranging from 8MT to 22T (17,500 – 48,500 lbs.), our S6 Auger Systems bring exceptional power and precision to your excavation tasks.
The Power of S6 Auger Bits
1. Unmatched Torque and Power
Solaris S6 Auger Torque Bits redefine what's possible. Designed for high-torque output drives, they conquer challenging drilling tasks, whether you're dealing with tough soils or rocky terrains. Say goodbye to sluggish drilling and embrace superior performance.
2. Precision at Your Fingertips
Experience the precision and control that only Solaris S6 Auger Torque Bits can offer. You have the power to accurately determine hole depth and diameter, ensuring your projects align with your exact specifications. No more costly errors or rework — your job just got more efficient!
3. Built to Last
Solaris S6 Auger Bits are engineered for the long haul. Crafted from high-quality materials and fortified components, they stand up to heavy-duty excavation work. Less downtime and fewer maintenance costs translate to a cost-effective solution you can rely on.
4. Versatile and Compatible
The S6 Auger Systems are ready to adapt to your needs. Their exceptional compatibility extends to a wide range of excavator models. Say goodbye to the need for specialized equipment – Solaris S6 Auger Bits give you the flexibility to excel.
5. Hydraulic Efficiency
Solaris S6 Auger Bits maximize hydraulic performance, resulting in faster drilling and reduced fuel consumption. This level of efficiency enhances overall productivity and trims down costs, making your job easier and more cost-effective.
6. Safety First
Safety is paramount in our design. S6 Auger Systems come with pressure relief valves, preventing overloading and potential accidents. Your equipment and workforce stay safe, reducing the risk of expensive downtime and repairs.
Full Auger Support and Service
Solaris Auger Torque takes pride in its comprehensive support and service. Whether you need spare parts or technical assistance, we have you covered. Our commitment ensures that your equipment stays in optimal condition, backed by the necessary resources. Count on us even after the purchase.
Choose Solaris S6 Auger Bits
In summary, Solaris S6 Auger Bits for excavators are the choice of professionals for a reason. They offer superior torque, precision, durability, compatibility, efficiency, and safety, making them the top pick for excavation tasks. Our unwavering commitment to quality and innovation sets them apart, making them the leading solution for various drilling and excavation applications. Choose Solaris S6 Auger Bits and elevate your excavation game.
Experience the Solaris difference today. Unleash unparalleled efficiency with Solaris S6 Auger Bits – your key to superior performance and reliability in excavation.
Don't Settle for Less
Call us now at (888) 754-3609 or complete the form below!
Solaris S6 Auger Flight Widths
| Dia | 4″ | 6″ | 8″ | 9″ | 10″ | 12″ | 14″ | 16″ | 18″ | 20″ | 24″ | 30″ | 32″ | 36″ | 40″ | 48″ | 60″ |
| --- | --- | --- | --- | --- | --- | --- | --- | --- | --- | --- | --- | --- | --- | --- | --- | --- | --- |
| S6 | – | 53 | 48 | 48 | 48 | 48 | 45 | 39 | 39 | 39 | 36 | 35 | 35 | 28 | 24 | 24 | 24 |
Extensions
| | Fixed | | | | | | | Telescopic | | |
| --- | --- | --- | --- | --- | --- | --- | --- | --- | --- | --- |
| | 20in | 40in | 5ft | 6ft6 | 8ft | 10ft | | 5ft | 6ft6 | 10ft |
| S5 | – | – | ✓ | ✓ | ✓ | ✓ | | ✓ | ✓ | – |
Solaris S6 Range Auger Gallery