Auger Drives // Mini-Excavators 1MT TO 3MT
Solaris Attachments Auger Torque's range of auger drives for 1MT to 3MT mini excavators offers ultimate quality, high performance, better durability, and greater cost-effectiveness.
Solaris Auger Torque's auger drives and attachments have been designed to work with all makes and models of the parent machine and empower you to switch between a wide range of attachments, ensuring you have an auger drive for any job at any time.
Auger Drives X1100-13 to X2100-17
The Auger Drive X1100-13 to X2100-17 are the perfect attachments for small excavators between 1 and 3 tons. As our smallest planetary drive, these auger drive do not compromise on quality and have been highly engineered to build to last.
The auger drives are equipped with premium-quality hydraulic motors and 50% larger-than-normal output shaft bearings. They are made of only high-grade materials, ensuring that your auger drive remains reliable, high-efficiency, and durable for a long time.
Solaris-Auger Torque earth drills are designed with the most cutting-edge engineering standards using only premium-quality material and the most state-of-the-art manufacturing techniques in the market.
Non-Dislodgment Shaft: The Earth Drills X1100-13 to X2100-17 come standard with a Non-Dislodgment Shaft, a one-unit drive shaft with a top-down assembly that is locked into the earth drill housing. The immaculate design guarantees the shaft will always remain secure with no risk of falling out, ensuring a safer work environment for the operators and the surrounding workers. A MUST-HAVE feature for any safety-conscious construction, agriculture, or landscaping company.
Heavy-Duty Hood Ears: These features come standard with earth drills and have been designed to withstand an immense amount of strain. The hood is attached securely to the hitch with the help of locked hood pins for extra safety.
Planetary Gearbox: The unique Solaris-Auger Torque epicyclic gearbox in the Earth Drills X1100-13 to X2100-17 ensures that the output torque is amplified with extreme efficiency, resulting in higher reliability and durability.
High-Grade Hydraulic Motor: The hydraulic motors are made of premium materials and have a high volumetric efficiency, which allows a steady speed under varying torque, ensuring improved performance and efficiency on the construction site.
Standard Hoses and Couplers: The earth drills series comes standard with high-quality hoses and couplers, which are always kept in stock. Simply specify the type and sizes that you need at the time of the purchase, and your earth drill will be ready to be used as soon as you receive it.
All Solaris-Auger Torque attachments and equipment are warranted to be free from material, mechanical, or workmanship defects for a certain time (summarized below).
Planetary Gearbox: 72 months
Hydraulic Motors: 36 months
Other Parts and Products: 24 months
Note: The warranty is only valid if the product is attached, assembled, and used appropriately, according to the directions provided in the operator's manuals and other instructions. The warranty period will start from the date of sale by the distributor or manufacturer.
Ready to place an order? Please be sure to fill out the appropriate measurement form and email it to dar@solarisattachments.com
Questions? Call us at (888) 754-3609.
Product Specifications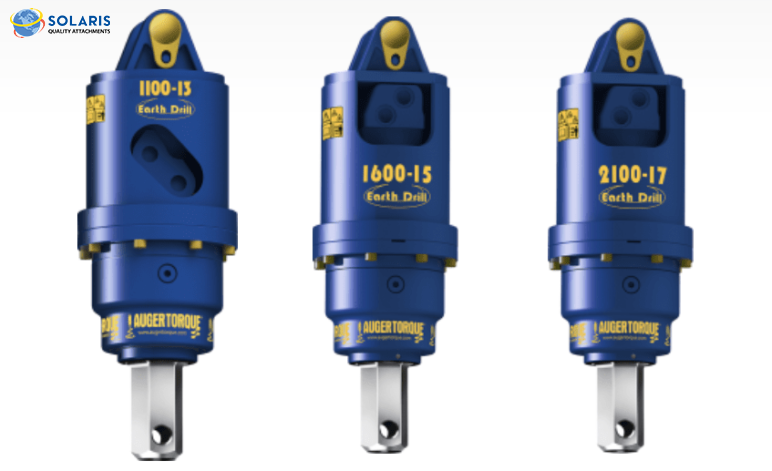 MODEL
X1100-13
X1600-15
X2100-17
Carrier Weight
2,200 – 4,400 lbs.
2,200 – 5,500 lbs.
3,300 – 6,600 lbs.
Oil Pressure Range
1,016 – 3,000 psi
1,016 – 3,481 psi
1,016 – 3,481 psi
Torque Range
407 – 1,104 ft-lb
472 – 1,616 ft-lb
612 – 2,100 ft-lb
Oil Flow Range
5 – 13 gpm
6 – 15 gpm
7 – 17 gpm
Speed Range
44 – 98 rpm
40 – 99 rpm
36 – 87 rpm
Shaft Options
2″ Hex (STD)
2.56″ Round
2″ Hex (STD)
2.56″ Round
2″ Hex (STD)
2.56″ Round
Height
21 in.
23 in.
23 in.
Width
8 in.
8 in.
8 in.
Weight
98 lbs.
104 lbs.
106 lbs.
Hitch Options
Single Pin Hitch
Double Pin Hitch
Cradle Hitch
Single Pin Hitch
Double Pin Hitch
Cradle Hitch
Single Pin Hitch
Double Pin Hitch
Cradle Hitch
Auger Range
S4
S4
S4
Rec. Drilling Diameter Range
4″ to 16″
4″ to 18″
4″ to 20″