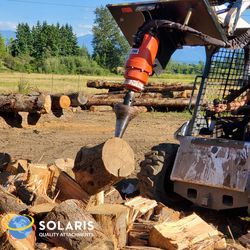 Solaris Atom Splitter: The Ultimate Log Splitter Cone for Effortless Wood Processing
Are you tired of struggling with stubborn logs and stumps, unable to split the wood with your existing log splitter? The solution to all your log-splitting challenges is here – introducing the Solaris Atom Splitter, a revolutionary 300-ton wood splitter cone designed to power through any wood type effortlessly. Whether you're dealing with frozen logs, knotty hardwood, or doing a large-scale land clearing project, the Solaris Atom Splitter is your key to increased efficiency and productivity.
Unmatched Performance for Any Wood Type
The Solaris Atom Splitter is engineered to tackle the toughest logs and stumps that may have left you frustrated in the past. No matter the wood type – be it white oak, ash, hickory, or frozen logs – this log splitter cone is up to the task. Its powerful 300-ton capacity ensures that even the most challenging wood is effortlessly split, making your log-splitting endeavors a breeze.
Adaptable to Your Equipment
Whether your log splitter has a round shaft or a 2-inch hex shaft, the Solaris Atom Splitter accommodates your needs seamlessly. Custom shaft openings are also available, ensuring a perfect fit for your specific log splitter system. This log splitter cone is a versatile addition to your equipment, compatible with various machinery, including tractors, skid steer excavators, truck cranes, and mini-loaders.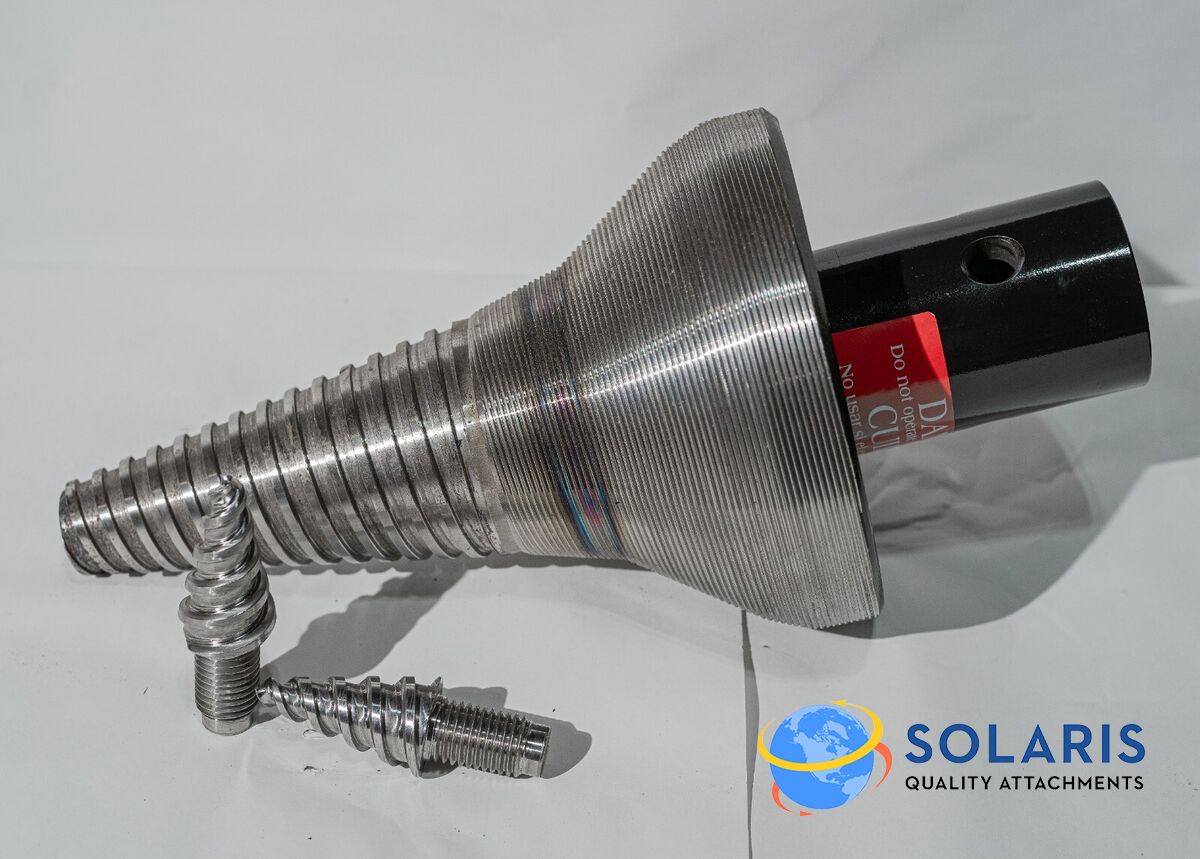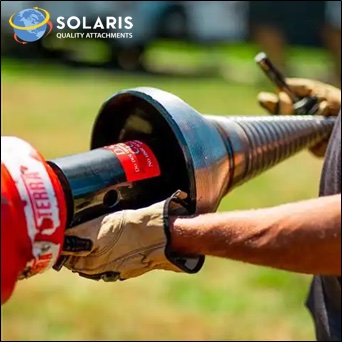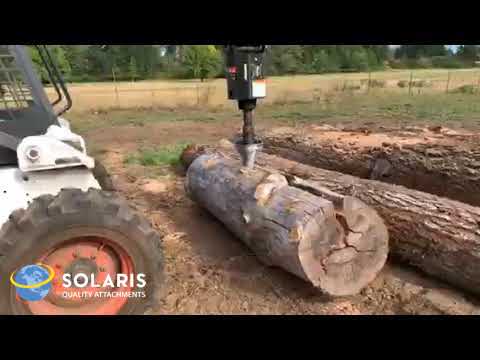 Made in the USA with Top-Quality Materials
Crafted with pride in the USA, the Solaris Atom Splitter is manufactured with hardened steel, guaranteeing durability and long-lasting performance. The replaceable tip adds to the tool's longevity, providing a cost-effective solution for your log-splitting needs. The long cone design, with flanges at the end, ensures efficient log splitting once the drilling process is complete.
Enhance Your Land Clearing Projects
Say goodbye to the challenges of land clearing. The Solaris Atom Splitter makes your land-clearing jobs significantly easier and quicker, boosting your overall efficiency and increasing your bottom line. Whether you're dealing with large, knotty rounds of hardwood or frozen stumps, this log splitter cone transforms labor-intensive tasks into streamlined operations.
Boost Wood Splitting Efficiency
If you rely on wood for your outdoor furnace or boiler, the Solaris Atom Splitter is a game-changer. It enhances the efficiency of your wood-splitting process, saving you both time and money. With the Solaris Atom Splitter, your forestry projects become more productive and efficient, making it an indispensable tool for professionals in the industry.
Perfect for Various Applications
No matter if you're operating a tractor, skid steer excavator, truck crane, or mini-loader, the Solaris Atom Splitter is designed to make wood splitting easier and more productive. Its versatility allows it to seamlessly integrate into your existing machinery, providing a hassle-free log-splitting experience.
Ready to Ship – Order Yours Today!
At Solaris, we understand the urgency of your projects. That's why we are well-stocked most of the time and ready to ship your Solaris Atom Splitter promptly. Take the next step to revolutionize your wood-splitting process and experience the unmatched performance of the Solaris Atom Splitter. Order yours today and transform the way you approach log splitting!
Need the whole assembly, not just the Log Splitter Cone – Solaris Attachments has you covered!
If this log splitter cone interests you and you need the entire assembly to drive this amazing cone, give us a call now or fill out the form below to let us know what type of machine you have and we will quote the entire assembly, which includes the drive, mount, hoses, couplings and cone – a complete log splitting system delivered ready to use!