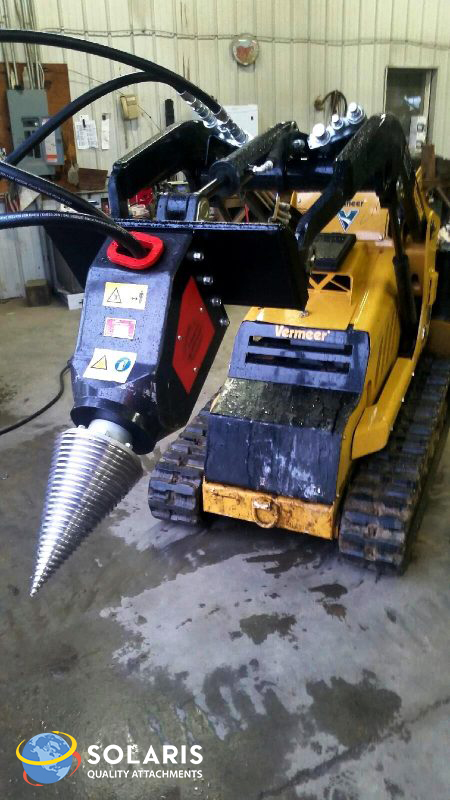 Black Splitter Attachment for Excavators, Skid Steers, and Backhoes
Due to their exceptional German engineering and robust construction, Black Splitter hydraulic cone splitter attachments and accessories have earned acclaim for their superior quality for all types of log splitting from industry professionals and private customers around the world. Their cone splitter products are utilized in numerous industries including log splitting, firewood & wood fuel production, biomass harvesting, forestry, land clearing, and landscaping.
Improve productivity & comfort
Productivity and efficiency is what it's all about when splitting and recycling big logs. The more split logs you can produce in a short time, all the better. The Black Splitter screw splitters clearly have that covered. Now, imagine that you can be as productive as possible AND enjoy the comfort and safety of never having to leave your cab. Whether it's an icy cold winter's day or a hot and humid one, you get to stay in the comfortable temperature of your cab. Providing productivity and comfort — now that's what we call a priceless cone splitter.
| Model | Carrier Weight Range |
| --- | --- |
| Black Splitter S1 | 1 – 6 Tons |
| Black Splitter S2 630 | 1.5 – 6 Tons |
| Black Splitter S2X 800 | 1.5 – 9 Tons |
| Black Splitter S2 800 | 1.5 – 9 Tons |
| Black Splitter S2X 800+ | 1.5 – 9 Tons |
| Black Splitter SG1 800 | 2.5 – 9 Tons |
| Black Splitter SB | 4 – 9 Tons |
| Black Splitter S1X | 6 – 15 Tons |