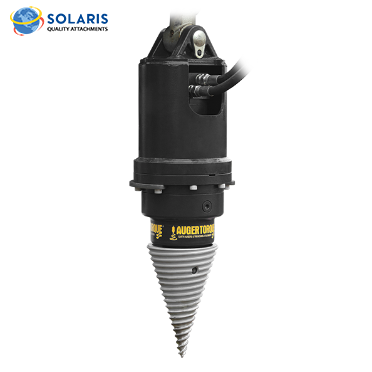 Log Splitter Attachment for Skid Steer
Log Splitting or Wood Splitting can take on a different meaning depending on which region of the world you live, what type of wood you're splitting, and for which purpose you are splitting it. That is why we offer a variety of different splitters to accommodate all types of projects.
▼▼▼ SCROLL DOWN TO LEARN MORE ▼▼▼
Meet our Skid Steer Log Splitters
The Solaris Skid Steer Wood Screw Log Splitter Attachment is offered with two drive options – standard flow or hi-flow. The standard flow drive is made for skid steers in the 13 – 30 gpm range, while the hi-flow drive can accommodate skid steers in the 17- 40 gpm range. Whether you have large logs, knotty logs, stringy wood – this skid steer & excavator wood screw log splitter attachment will split virtually anything! Great for cold or nasty weather because you can stay in your cab, lift a log by screwing the cone in part-way, then place the log where you need it and unscrew it. The cone is 7-1/4" thick at its widest point, which allows for great success in this skid steer log splitter.
Both, the standard flow package and hi-flow packages are delivered with the drive, the skid steer frame, the log splitter cone, hoses and flat-faced couplings – ready to use! Theses systems are interchangeable – take off the cone and replace it with a post-hole differ or any auger or a stump planer. That way you have a multi-tool attachment!
Call us at (888) 754-3609, fill out the form below or simply shop for your product online now!
All Solaris-Auger Torque attachments and equipment are warranted to be free from material, mechanical, or workmanship defects for a certain time (summarized below).
Planetary Gearbox: 72 months
Hydraulic Motors: 36 months
Other Parts and Products: 24 months
Note: The warranty is only valid if the product is attached, assembled, and used appropriately, according to the directions provided in the operator's manuals and other instructions. The warranty period will start from the date of sale by the distributor or manufacturer.
Gallery
Video