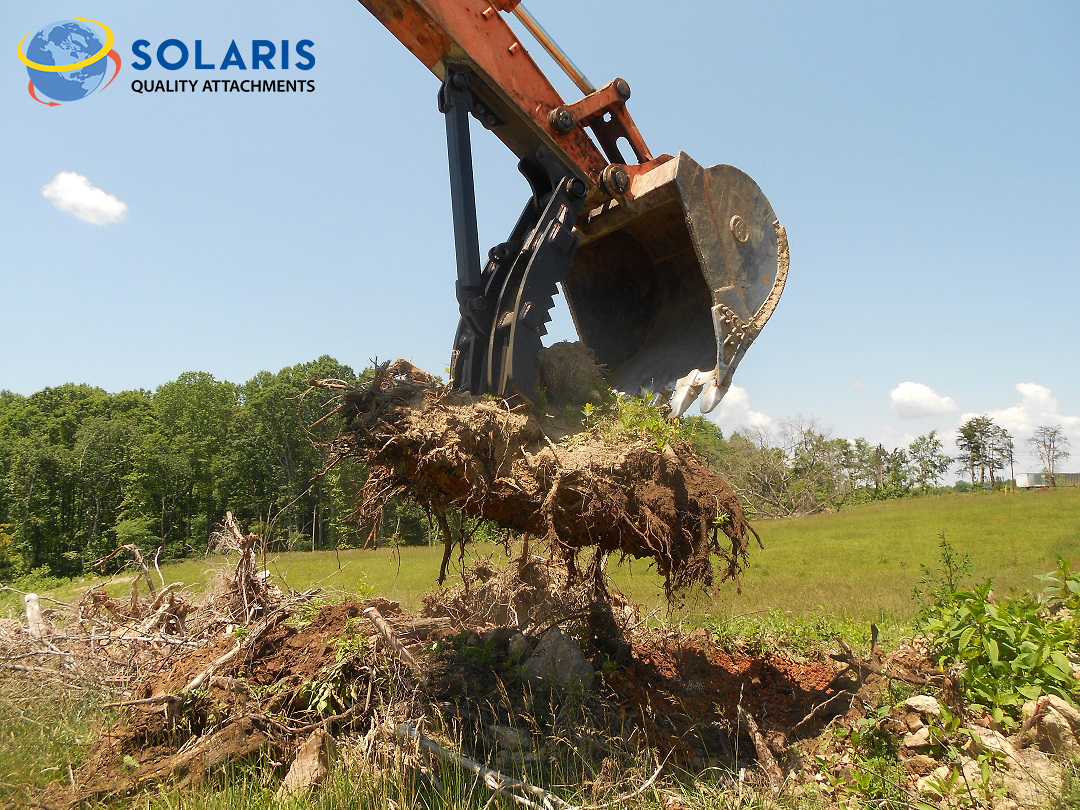 Hydraulic thumbs have emerged as indispensable attachments for a wide range of heavy-duty machinery, including excavators and backhoes. In contrast to manual thumbs that require operators to manually adjust the thumb's position, hydraulic thumbs offer an advanced level of control, all from the comfort of the operator's cabin. These hydraulic thumbs find applications across diverse industries, from construction and tree services to disaster relief and site preparation. Solaris Attachments, a reputable name in attachments, presents two types of hydraulic thumbs: Stick-Mounted and Pin-Mounted. Let's delve into the top five reasons why you need a hydraulic thumb for your heavy machinery.
Boost Efficiency and Save Precious Time: Hydraulic thumbs empower operators to swiftly adjust the angle of the thumb without leaving the cabin. This seamless control translates to a significant time-saving advantage, allowing operators to seamlessly transition between tasks. In fields where precision and efficiency are paramount, such as construction and site preparation, a hydraulic thumb is a game-changer.
Elevated Worksite Safety: One of the foremost concerns on any worksite is safety. Hydraulic excavator thumbs play a pivotal role in enhancing worksite safety. By affording operators better control over materials, they reduce the risk of accidents, such as load slipping or unexpected falling. The sturdy construction of hydraulic thumbs further fortifies safety protocols on site.
Versatile Material Handling: Hydraulic thumbs extend the versatility and capability of your heavy machinery. They empower operators to manipulate a broad spectrum of materials, ranging from rocks and logs to pipes and debris – items that may not easily fit into the bucket otherwise. This versatility makes hydraulic thumbs indispensable for various industries, from tree services to disaster relief.
Unparalleled Precision in Operations: The hydraulic power at the operator's fingertips offers an unparalleled degree of precision. This precision, in turn, translates to superior control over the excavator thumb's angle, allowing operators to grasp, transport, and handle materials with finesse. Excavator Hydraulic thumbs can be effectively used for tasks that demand precision, such as shaping trenches, creating accurate holes, and maintaining a consistent depth – all crucial aspects in activities like utility installation.
Peace of Mind with a 2-Year Warranty: When investing in a hydraulic thumb from Solaris Attachments, it's essential to have confidence in its quality and performance. Solaris Attachments, a trusted name in the industry, backs its hydraulic thumbs with a reassuring 2-Year warranty. This warranty provides peace of mind, knowing that your attachment is guaranteed to perform reliably. Choosing a hydraulic thumb from Solaris Attachments means investing in a top-quality attachment assembled in the USA, accompanied by the support of a dedicated sales representative to assist you throughout the buying process.
In the realm of heavy machinery, efficiency, precision, and safety are paramount. A hydraulic thumb from Solaris Attachments can be your invaluable ally in achieving these goals. By opting for an excavator hydraulic thumb, you unlock the potential for faster, safer, and more precise operations, while the added benefit of a 2-Year warranty ensures that your investment is a dependable one. Solaris' commitment to quality and customer support ensures that you not only acquire a top-tier attachment but also gain a trusted partner in your heavy machinery endeavors.
SOLARIS WARRANTY STATEMENT
  The following limited warranty applies to products, parts and attachments ("Equipment") manufactured and sold by SOLARIS MARKETING NW, LLC dba SOLARIS ATTACHMENTS ("SOLARIS").  
Subject to the terms and limitations herein, SOLARIS warrants that the Equipment will (a) conform to the design and specifications, if any, expressly agreed to in writing by SOLARIS; and (b) be free from defects in workmanship and materials for a period of two years from the date of delivery, provided that the Equipment is properly operated under conditions of normal use and subject to regular periodic maintenance.  SOLARIS' obligation under this warranty is limited to repairing or replacing Equipment that is returned in accordance with the procedure set forth below.  
This warranty extends only to buyers who purchased the equipment directly from Solaris, or one of its dealers as new merchandise.  The warranty does not apply to attachments or components that are not manufactured by SOLARIS, though they may be covered by the manufacturer's warranty. 
This warranty shall not apply to normal wear or to damage resulting from accident, abnormal use, misuse, abuse, or neglect, or to any attachments that have been improperly applied, improperly installed or modified without written authorization from SOLARIS. SOLARIS makes no warranty of merchantability or of fitness for a particular purpose in respect to this equipment.  SOLARIS shall not be liable for any injury or damage to any person, place, or thing by reason of the installation, use or mechanical failure of any Equipment, nor any special, indirect, incidental or consequential damages of any kind, whether arising in tort or in contract.
WARRANTY REPLACEMENT PROCEDURE
All Equipment subject to a warranty claim must be tagged with an RGA (returned goods authorization) number. To obtain an RGA number, contact SOLARIS with the model and ID number of equipment and a brief description of the part being returned. Upon receipt at Eldorado, IL, shipping prepaid by customer, the part will be inspected. If inspection indicates failure was due to defect of material or workmanship, and the part failed during the warranty period, the part will be repaired or replaced and shipped prepaid by SOLARIS via ground service. SOLARIS retains the sole and final discretion to determine whether the Equipment is defective.  The option of repair or replacement will be at the discretion of SOLARIS. SOLARIS reserves the right to make design and specification changes on replacement parts.
If a warranty or exchange part is not received within 30 days after the RGA is issued, the customer must pay for the part.  No warranty consideration will be given on parts not tagged with an RGA number.  No warranty consideration will be given on parts showing evidence of tampering or disassembly.
SOLARIS SHIPPING INFO: c/o Warehousing Pros 2600 Hart Street, Nashville, TN 37207
GOVERNING LAW, FORUM, AND VENUE
This agreement and the rights and obligations of the parties hereunder shall in all respects be governed by the laws of the State of Washington (without regard to the conflict-of-laws principles of such state). In the event of litigation arising out of or relating to this Agreement, the exclusive forum, venue and place of jurisdiction shall be in the state of Washington.
Manual & Hydraulic Thumb for Excavators & Backhoes
We sell hydraulic thumbs attachments for excavators that can improve your productivity, increase safety, and provide greater flexibility and control in a variety of applications. Excavator's thumbs are attachments that are welded to the back of the dipper stick of an excavator. Essentially, our mechanical and hydraulic thumbs help to turn the excavator from a digging machine into a material handling machine, acting much like the thumb on your hand. We offer thumbs for all-size excavators and backhoes. Excavator's thumbs are offered in mechanical or hydraulic format.
A mechanical thumb is typically set into a specific position before beginning a project. Usually, there are preset slots in which a pin is inserted in order to secure the thumb in a fixed position for the duration of a job.
Hydraulic thumbs are much more versatile. As the operator, you can manipulate the thumb to open and close the bucket while picking up logs, debris, pipes, rocks, concrete, and other material that would not ordinarily fit into the bucket. Some hydraulic thumbs are designed to be fixed in position, while others are designed to rotate, providing additional flexibility and versatility. Rotating thumbs are particularly useful for digging and excavating, as they allow you to easily grab and position rocks or other materials in the exact location where they are needed.