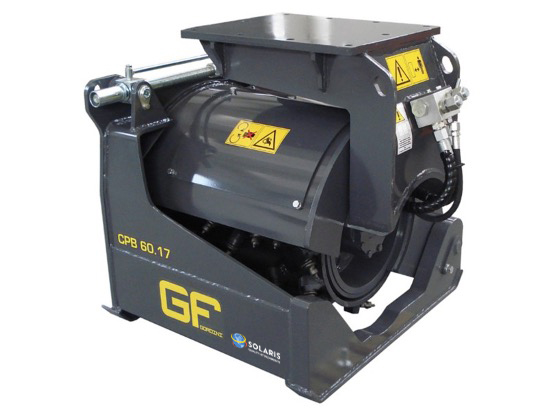 Cold Planer for Excavators
Solaris cold planers are designed for milling pre-set sections on compact and hard surfaces like cement and asphalt and are highly efficient at preparing trenches or for milling destroyed material for resurfacing. These panels are highly flexible and allow you to work on vertical, horizontal, and sloped surfaces.
We offer four different sizes that can fit excavators starting at only 6,600 lbs.
Looking for Skid Steer Roadline Attachments? Click Here
▼▼▼ SCROLL DOWN TO LEARN MORE ▼▼▼
Meet Our Cold Planer for Excavator Attachments
Whether you're a milling contractor or a general contractor, you will benefit from our high-quality, reliable road line attachments, especially at prices and availability times that are welcome in today's marketplace.
Our headquarters and customer service representatives are all based in the US, as are our assembly plants and warehouses.
We offer four different sizes that can fit excavators starting at only 6,600 lbs.
| Specifications | Units | CPB 30.13 | CPB 40.13 | CPB 45.15 | CPB 60.17 |
| --- | --- | --- | --- | --- | --- |
| | | NO CASE DRAIN – 2 LINES | NO CASE DRAIN – 2 LINES | CASE DRAIN REQUIRED | CASE DRAIN REQUIRED |
| Working Width – Standard Drum | in. | 12 | 16 | 18 | 24 |
| Working Depth – Standard Drum | in. | 0-5 | 0-5 | 0-6 | 0-7 |
| Standard Asphalt Teeth | # | 48 | 48 | 54 | 66 |
| Flow Range | gpm | 12-21 | 12-21 | 24-37 | 32-42 |
| Pressure Range | psi | 2400-4400 | 2400-4400 | 2400-4400 | 2400-4400 |
| Weight | lbs. | 881 | 926 | 1389 | 1653 |
| Minimum Distance From Wall | in. | 3.1 |  3.1 |  3.1 |  3.1 |
| Depth Adjustment | | Manual | Manual | Manual | Manual |
| Swinging Support Rotation | | 135 degrees | 135 degrees | 135 degrees | 135 degrees |
| Average Milling Speed (Standard Drump at 50% depth) | ft./min. | 2-10 | 2-10 | 2-15 | 2-15 |
| For Excavators | lbs. | 6600-13200 | 12100-20900 | 15400-28700 | 26500-39700 |
| For Backhoes | lbs. | N/A | 13200-19800 | 16500-26500 | N/A |
| | | | | | |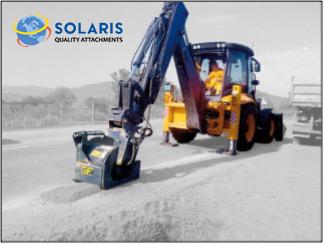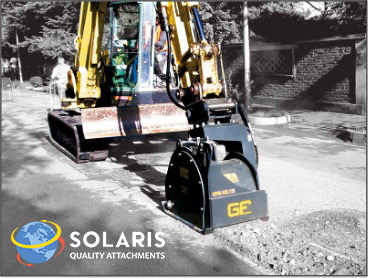 Solaris Cold Planers Key Features:
Heavy Duty Construction: The Solaris cold planers have a heavy-duty and durable construction, ensuring ruggedness and reliability
Components: Asphalt picks equipped on a standard drum
Application: Engineered to mill fixed sections of compact and hard surfaces
Reduced Environmental Impact: Planers are designed to allow the possibility of reusing milled material in order to backfill trenches, reducing the impact on the environment
Swinging Support: Swinging support pivoted on the cutter drum's rotation axis ensures perfect planning surface in any type of surface condition
Independent Depth Adjustment: Offers more adaptability and flexibility with mechanical left-hand and right-hand depth adjustments with skid frame and thread bar, resulting in a perfectly plane and level surface
Linkage to Dipper Stick: Swinging frame linked to the dipper stick with a flat plate with holes for bolts
Better Precision: Heavy-duty construction that handles easily due to swinging support, which ensures improved accuracy on any working surface
Better Versatility: The roadline attachments work well on any type of surface, including vertical, horizontal, and sloped
Perfect Flat Plans: Thanks to its flanked passes, it is easy to get a perfectly level working area
Hydraulic Piston Motors: Hydraulic piston motors are equipped with direct cutter drums to ensure high efficiency and faster work
Lateral Support Slides: The roadline attachment comes with lateral support slides for minimum spillage of material and optimal stability
Low Maintenance Cost: The roadline attachment has a very low maintenance cost. If any teeth are broken, we can replace them easily as they are readily available and in stock
The following limited warranty applies to products, parts and attachments ("Equipment") manufactured and sold by SOLARIS MARKETING NW, LLC dba SOLARIS ATTACHMENTS ("SOLARIS").
Subject to the terms and limitations herein, SOLARIS warrants that the Equipment will (a) conform to the design and specifications, if any, expressly agreed to in writing by SOLARIS; and (b) be free from defects in workmanship and materials for a period of two years from the date of delivery, provided that the Equipment is properly operated under conditions of normal use and subject to regular periodic maintenance.  SOLARIS' obligation under this warranty is limited to repairing or replacing Equipment that is returned in accordance with the procedure set forth below.
This warranty extends only to buyers who purchased the equipment directly from Solaris, or one of its dealers as new merchandise.  The warranty does not apply to attachments or components that are not manufactured by SOLARIS, though they may be covered by the manufacturer's warranty.
This warranty shall not apply to normal wear or to damage resulting from accident, abnormal use, misuse, abuse, or neglect, or to any attachments that have been improperly applied, improperly installed or modified without written authorization from SOLARIS. SOLARIS makes no warranty of merchantability or of fitness for a particular purpose in respect to this equipment.  SOLARIS shall not be liable for any injury or damage to any person, place, or thing by reason of the installation, use or mechanical failure of any Equipment, nor any special, indirect, incidental or consequential damages of any kind, whether arising in tort or in contract.
WARRANTY REPLACEMENT PROCEDURE
All Equipment subject to a warranty claim must be tagged with an RGA (returned goods authorization) number. To obtain an RGA number, contact SOLARIS with the model and ID number of equipment and a brief description of the part being returned. Upon receipt at Eldorado, IL, shipping prepaid by customer, the part will be inspected. If inspection indicates failure was due to defect of material or workmanship, and the part failed during the warranty period, the part will be repaired or replaced and shipped prepaid by SOLARIS via ground service. SOLARIS retains the sole and final discretion to determine whether the Equipment is defective.  The option of repair or replacement will be at the discretion of SOLARIS. SOLARIS reserves the right to make design and specification changes on replacement parts.
If a warranty or exchange part is not received within 30 days after the RGA is issued, the customer must pay for the part.  No warranty consideration will be given on parts not tagged with an RGA number.  No warranty consideration will be given on parts showing evidence of tampering or disassembly.
SOLARIS SHIPPING INFO: c/o Warehousing Pros 2600 Hart Street, Nashville, TN 37207
GOVERNING LAW, FORUM, AND VENUE
This agreement and the rights and obligations of the parties hereunder shall in all respects be governed by the laws of the State of Washington (without regard to the conflict-of-laws principles of such state). In the event of litigation arising out of or relating to this Agreement, the exclusive forum, venue and place of jurisdiction shall be in the state of Washington.
Check out our Cold Planers for Excavators: