Auger Drives // Mini Excavators 2MT TO 5MT
Solaris Auger Torque offers a versatile range of Auger Drives for 2-ton to 5-ton excavators designed through engineering excellence with high-grade material and the strictest quality control for exceptional durability and reliability.
The auger drives have been designed to be compatible with all makes and models of the parent machines and come with a versatile range of attachments that make them perfect for all kinds of construction, landscaping, and agriculture project.
Auger Drives 2200-20 to 3300-30
Solaris Auger Torque Auger Drives 2200-20 to 3300-30s are designed to be highly compatible and effective attachment options for mini excavators with an operating weight between 2 to 5 tons. As part of our smaller line-up of planetary devices, Auger Drives 2200-20 to 3300-30 have exceptional operational capabilities and are built to last for years, offering consistently high performance every time.
Equipped with premium-quality hydraulic motors and oversized output shaft bearing (50% larger than the ones our competitors use), the earth drills ensure a reliable and long service drive.
In addition, you can also opt for an additional attachment, the Auger Torque 2-Way Valve, for Auger Drives 2200-20 to 3300-30 that will empower you to transform a single-acting hammer circuit into a 2-way double-acting auxiliary flow, ensuring more control and power, improved efficiency, and more cost savings.
The Auger Drive 2200-20 to 3300-30 have been made using state-of-the-art engineering technology and the highest quality control standards in the industry. Some features that make this series of auger drives unique are mentioned below:
Heavy-Duty Forged Hood Ears: Our heavy-duty forged hood ears come as standard components with all auger drives and can withstand a huge amount of stress and strain. All the hood pins are securely locked, making it impossible for the hood to separate and fall from the hitch.
Non-Dislodgement Shaft: Standard with the Auger Drives 2200-20 to 3300-30, Solaris-Auger Torque's patented, one-of-a-kind Non-Dislodgement Shaft is a single-piece drive shaft with a top-down assembly that is locked securely to the housing of the drill. Our unique design guarantees that the shaft will never become dislodged and fall out, ensuring a safer working environment for the operators and construction workers. This feature is a requisite for any safety-conscious company that manufactures or distributes auger drives.
Planetary Gearbox: Get the benefit of a multiplied torque by using our state-of-the-art planetary epicyclic gearbox. The system ensures highly effective and efficient torque amplification, which ensures more raw power as well as the reliability and durability that you need.
2-Way Valve: The Auger Drive 2200-20 to 3300-30 also benefits from the innovative Solaris-Auger Torque 2-way valve that transforms a single-acting hammer circuit into a double-acting 2-way auxiliary flow, ensuring improved control, precision, power, efficiency, and cost savings.
High-Grade Hydraulic Motors: Solaris-Auger Torque work closely with high-quality suppliers to deliver the most reliable and durable attachments to customers. Our auger drives are equipped with high-grade hydraulic motors, which enable a constant speed under varying torque for better efficiency and performance.
High-Quality Hoses and Couplers: This auger drives series is accompanied by high-quality hoses and couplers. Simply specify the type and size you need at the time of purchase, and we will deliver them to you from our stocked inventory so that you may be able to use the earth drill immediately.
All Solaris-Auger Torque attachments and equipment are warranted to be free from material, mechanical, or workmanship defects for a certain time (summarized below).
Planetary Gearbox: 72 months
Hydraulic Motors: 36 months
Other Parts and Products: 24 months
Note: The warranty is only valid if the product is attached, assembled, and used appropriately, according to the directions provided in the operator's manuals and other instructions. The warranty period will start from the date of sale by the distributor or manufacturer.
Ready to place an order? Please be sure to fill out the appropriate measurement form and email it to dar@solarisattachments.com
Questions? Call us at (888) 754-3609.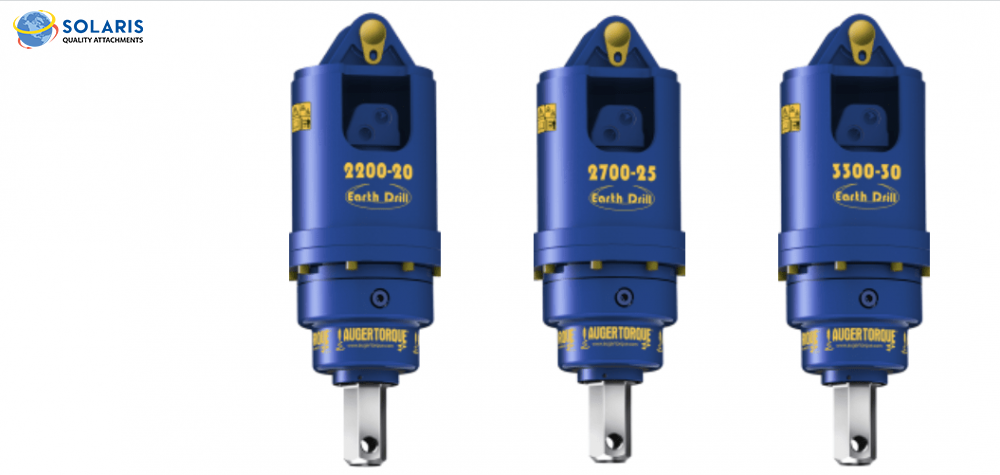 Model
2200-20
2700-25
3300-30
Carrier Weight
2 – 4 MT
4,400 – 8,800 lbs.
2.5 – 4.5 MT
5,500 – 9,900 lbs.
3 – 5 MT
6,600 – 11,000 lbs.
Oil Pressure
1161 – 3481 psi
1161 – 3481 psi
1161 – 3481 psi
Torque Range
708 – 2122 ft-lb
889 – 2666 ft-lb
1107 – 3319 ft-lb
Oil Flow Range
7 – 20 gpm
10 – 25 gpm
13 – 30 gpm
Speed Range
36 – 101 rpm
40 – 100 rpm
42 – 97 rpm
Shaft Option
2″ Hex (STD)
2.56″ Round
2″ Hex (STD)
2.56″ Round
2″ Hex (STD)
2.56″ Round
Height
26 in.
26 in.
26 in.
Width
10 in.
10 in.
10 in.
Weight
157 lbs.
161 lbs.
166 lbs.
Hitch Options
Single Pin Hitch
Double Pin Hitch
Cradle Hitch
Single Pin Hitch
Double Pin Hitch
Cradle Hitch
Single Pin Hitch
Double Pin Hitch
Cradle Hitch
Auger Range
S4
S4
S4
Rec. Drilling Diameter Range
4″ to 24″
4″ to 24″
4″ to 36″