Auger Drives / Mini Excavators 4.5MT to 8MT
Solaris Auger Torque offers a versatile range of Auger Drives for 4.5-ton to 3-ton excavators designed through engineering excellence with high-grade material and the strictest quality control for exceptional durability and reliability.
These auger drives have been designed to be compatible with all makes and models of the parent machines and come with a wide range of attachments that make them perfect for all kinds of construction, landscaping, and agriculture projects.
Auger Drives 4000-30 to 6000-40
Solaris Auger Torque Auger Drives 4000-30 to 6000-40s are designed to be highly compatible and effective attachment options for mini excavators with an operating weight from 4.5 to 8 tons. As part of our smaller line-up of planetary devices, Auger Drives 4000-30 to 6000-40s have exceptional operational capabilities and are built to last for years, offering consistently high performance every time.
Equipped with premium-quality hydraulic motors and oversized output shaft bearing (50% larger than the ones our competitors use), the auger drives ensure a reliable and long service drive.
In addition, you can opt for an additional attachment, the Auger Torque 2-Way Valve, for auger drives 4000-30 to 6000-40 that will empower you to transform a single-acting hammer circuit into a 2-way double-acting auxiliary flow, ensuring more control and power, improved efficiency, and more cost savings.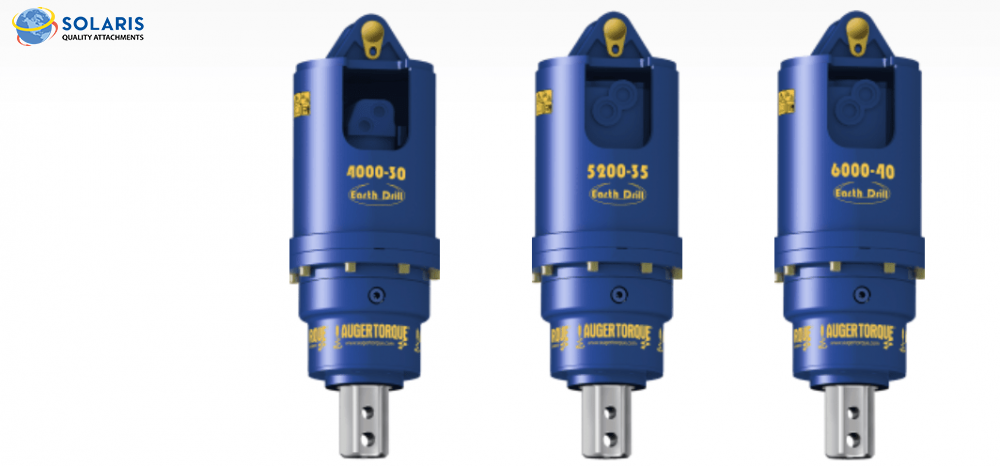 Model
4000-30
5200-35
6000-40
Carrier Weight
4.5 – 6 MT
9,900 – 13,225 lbs.
5 – 7 MT
11,000 – 15,500 lbs.
6 – 8 MT
13,225 – 17,650 lbs.
Oil Pressure Range
1161 – 3771 psi
1161 – 3771 psi
1161 – 3481 psi
Torque Range
1243 – 4040 ft-lb
1573 – 5112 ft-lb
2004 – 6013 ft-lb
Oil Flow Range
10 – 30 gpm
15 – 35 gpm
18 – 40 gpm
Speed Range
29 – 86 rpm
34 – 79 rpm
32 – 71 rpm
Shaft Options
2.5″ Hex (STD)
2.5″ Hex (STD)
2.5″ Hex (STD)
Height
31 in.
31 in.
31 in.
Width
11 in.
11 in.
11 in.
Weight
238 lbs
247 lbs.
260 lbs.
Hitch Options
Single Pin Hitch
Double Pin Hitch
Cradle Hitch
Single Pin Hitch
Double Pin Hitch
Cradle Hitch
Single Pin Hitch
Double Pin Hitch
Cradle Hitch
Auger Range
S5
S5
S5
Rec. Drilling Diameter Range
6″ to 30″
6″ to 36″
6″ to 48″