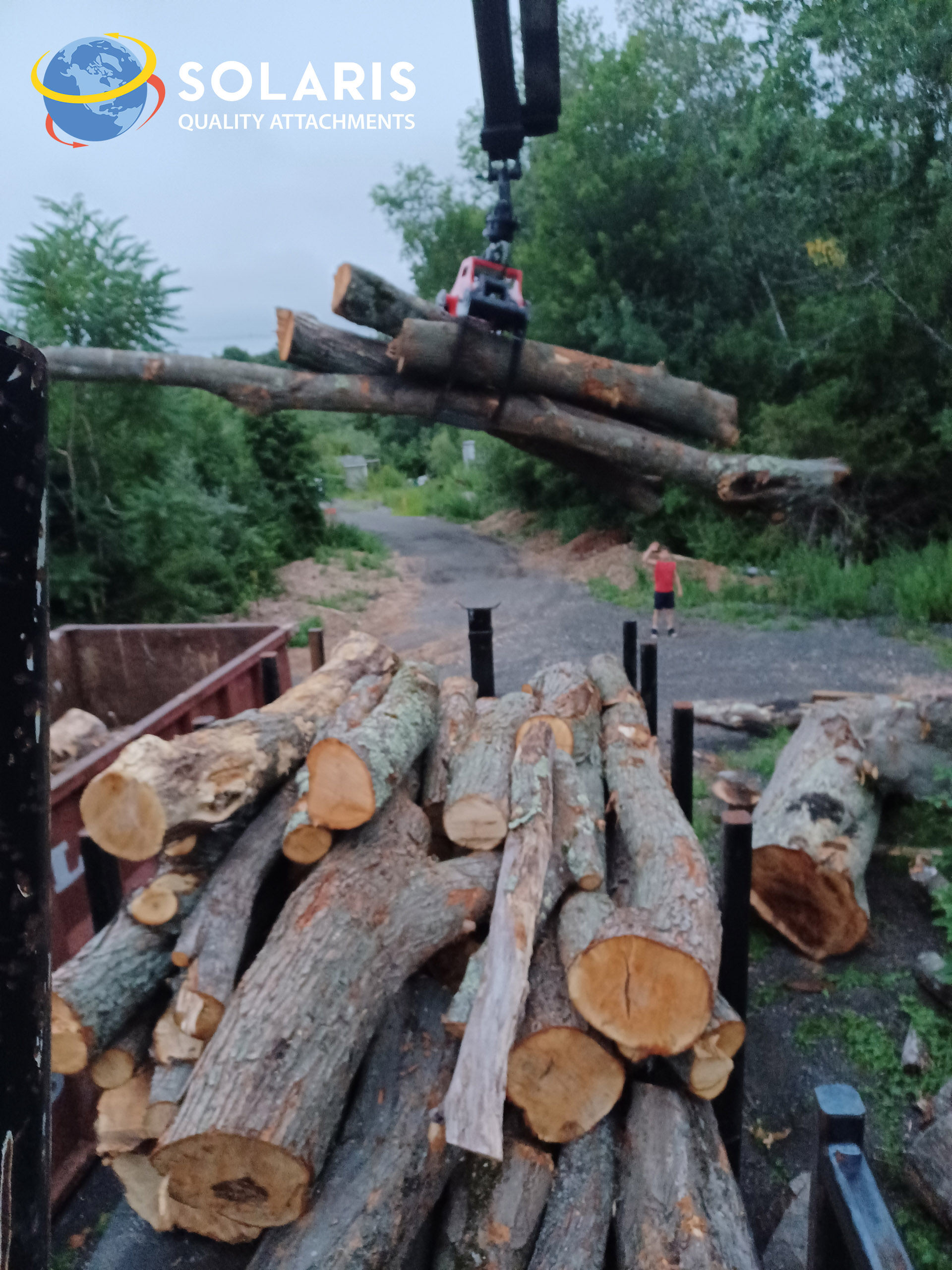 Rotating Grapples for Excavators
If you work in the construction, logging, agricultural, or landscaping industry the rotating log grapple may be the best choice for you.
Our rotating log grapples are highly versatile and combine all the best features of specialty grapples, allowing the crew to work safely and efficiently all day long. Grapples have a wide range of applications, including recycling, demolition, sorting, and transferring of logs, stone, forest residue, and bulk materials.
At Solaris Attachments, we offer rotating log grapples for excavators that are made with cutting-edge design, allowing its wide opening width to pick up large amounts of materials, improving carrying capacity but still allowing a secure gripping force that can handle logs and a variety of other materials.
This is a must-have attachment for anyone with a landscaping, land clearing, or tree service contract.
Load Bearing Capacity: The Solaris Excavator Rotating Log Grapple attachment can carry heavy loads and rotate. Even the smallest unit can carry up to 2,200 lbs, while the bigger one can carry 4,400 lbs.
Durable Construction: Our rotating log grapple is made of high-grade, heavy-duty steel construction, improving its tensile strength while ensuring a lighter-weight grapple attachment.
360-degree Rotation: Our excavator log grapple can turn a complete and continuous 360-degree, which makes it easy and more secure to handle large and cumbersome objects like timber and logs and load or transfer them.
Diverter Valve System & Hydraulic Circuit: Available with two hoses and a diverter valve system or four hoses, according to the specifications of your excavator. The diverter switch allows for a single hydraulic circuit.
Fully Assembled: The rotating log grapple comes fully assembled and can be hitched easily to a mini excavator or excavator, depending on its capacity. Contractors can attach the equipment to the machine in a matter of minutes after it has been delivered and be ready to start work in no time.
Grip Area: The rotating log grapple has varying grip areas, depending on the size you choose. The SL30-D/SL30-4 has a grip area of 1.08 sqft, the SL40-D/SL40-4 has a grip area of 2.7 sqft.
Low Wear and Tear: The log grapple system efficiently rotates itself, not the excavator, preventing wear on tear on the machine as well as the site you are working on. Grabbing action is independent of the tilt arm.
Secure Grip: The grapple jaws of the attachments shut closely and grip firmly, making it secure and easy to pick up objects.
Compatibility: The grapple attachment can be shared between machines of the same size and capacity with the same coupler, eliminating the need to buy multiple grapplers.
Our log grapple attachments come with a two-year warranty for parts and replacements.
Specifications
| Model | SL30-D/SL30-4 | SL40-D/SL40-4 |
| --- | --- | --- |
| Carrier Weight (lbs) | 4,400 – 12,000 | 6,600 – 18,000 |
| Width – A (in.) | 29.6″ | 41.3″ |
| Height – B (in.) | 26.4″ | 35.4″ |
| Height – C (in.) | 17.72″ | 24.4″ |
| Min. Diameter – D (in.) | 3.94″ | 7.09″ |
| Thickness – E | 12.6″ | 15.75″ |
| Grip Area (sq.ft.) | 1.08 | 2.7 |
| Clamping Force (lb.-ft.) | 1.57 | 2.02 |
| Max Load (lbs.) | 2,204 | 4,400 |
| Optimum Pressure (psi) | 2,900 | 2,900 |
| Min. Hydraulic Flow (gpm) | 7.9 | 10.57 |
| Attachment Weight (lbs.) | 256 | 529 |
Solaris Excavator Rotating Log Grapple has been over-engineered with a high-quality material and quality control for single and multiple log picking and transporting applications and is equipped with a free-hanging rotating grapple.
For log and timber loading and unloading, the Solaris Rotating Log Grapple features a continuous 360-degree rotation and can be hitched to the excavator with a three-point hitch for exceptional control over material handling. This grapple requires one hydraulic circuit and comes with a diverter switch.
Our range of excavator grapple attachments is heavy-duty, and even the smallest one can easily handle a maximum load of 2,204 lbs. Tough and durable, these excavators are guaranteed to do the job right with the highest amount of efficiency.
Whether you want to hold the tree steady when cutting down the trunk or need to lift a log away from the site, our excavator rotating log grapple attachment has you covered.
Video