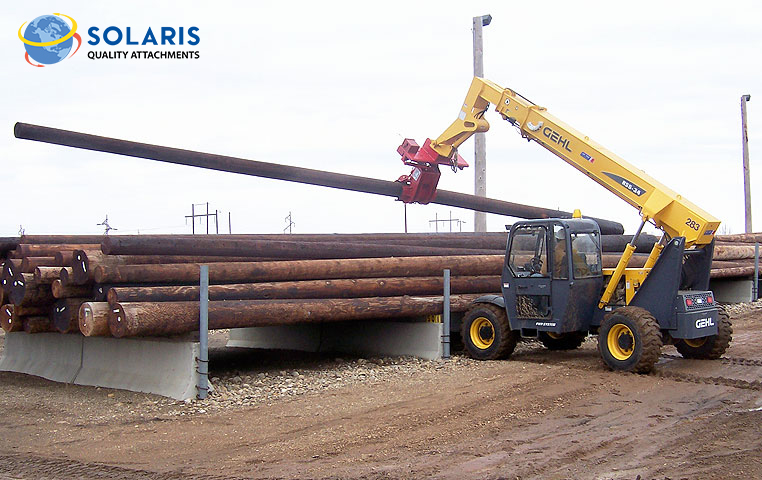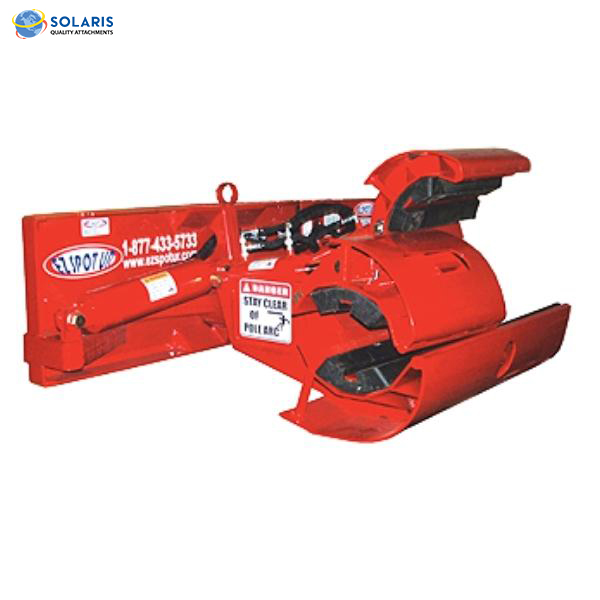 Rotating Heavy Duty Pole Setters: A Comprehensive Guide
When it comes to efficiency, innovation, and versatility in the world of heavy machinery attachments, Solaris Attachments has consistently set the standard. Our Rotating EZ Pole Setters for skid steers, excavators, wheel loaders, and telehandlers stand as the best and most advanced solution on the market. Our skid steer pole setters are considered the absolute best and are by far the most popular. Let's explore the reasons why Solaris Attachments' Rotating Pole Setters are the ultimate choice for your pole-setting needs, backed by quality, precision, and their American-made heritage.
Why Choose the Solaris Rotating Pole Setters for Efficiency & Precision
1. Unparalleled Versatility: Solaris Attachments' Rotating Pole Setters are designed to handle a wide range of pole sizes and materials, including wooden utility poles, square steel support beams, and tapered poles. Our attachments offer flexibility, allowing for both small and large poles – up to 100 feet.
2. Precision Engineering: Precision is at the core of our Rotating Pole Setters. With a remarkable 127-degree rotation (an optional 350-degree chain rotation is also available), the operator is able to position poles with absolute accuracy, ensuring optimal load distribution and safeguarding against damage.
3. Quick and Easy Installation: We understand the value of time, and our Rotating Pole Setters are known for their hassle-free installation. Delivered turnkey and ready to use, they minimize downtime and maximize productivity.
4. Durable and Reliable: Quality is the bedrock of Solaris Attachments. Our Rotating Pole Setters are made with high-grade materials, guaranteeing their longevity and resilience even in challenging work environments. We back this commitment to quality with a 2-year limited warranty for added peace of mind.
5. Proudly Made in the USA: At Solaris Attachments, we take immense pride in delivering products that are proudly manufactured in the United States. Our unwavering dedication to quality and excellence shines through in every Rotating Pole Setter we produce.
Explore Versatile Applications of Solaris Rotating Pole Setters Across Industries
Utility and Construction
Achieve precision and ease in setting utility poles, ensuring the reliability of power and communication infrastructure. Whether you're using a skid steer, excavator, wheel loader, or telehandler, our Rotating Pole Setters are up to the task.
Telecommunications
Efficiently and securely install support poles for antennas, cable, fiber optics and communication equipment, delivering stability and reliability.
Electrical Companies and Cooperatives
Our ultimate rotating pole setters can efficiently remove/pull existing poles before replacing them with new ones. Optional tamping circuits and hand tampers increase efficiency by eliminating the need for extra hydraulic lines. Utilize the pole setter's hydraulics to tamp around the new pole and complete the job effortlessly.
Fencing and Landscaping
After utilizing the Solaris Post Hole Digger to drill post holes, simplify fencing and landscaping projects by easily setting fence posts and landscape structures with the Solaris Rotating Pole Setter.
Government Projects
Government entities rely on Solaris Rotating Pole Setters for a multitude of applications, including road sign installation and public works projects.
The Best Pole-Setting Experience
Solaris Attachments' Rotating Pole Setters redefine the pole-setting experience, delivering precision and efficiency every time.
Maximize Efficiency:
Our Rotating Pole Setters enable faster and more precise pole-setting, ultimately saving you valuable time and resources.
Ensure Safety:
With precise positioning and load distribution, our attachment enhances safety by minimizing the risk of accidents and damage. The double-pole claw system significantly increases safety by securing the pole more effectively than any other pole setter on the market.
Optimal Load Distribution:
The 127-degree rotation capability allows for precise pole placement, ensuring optimal load distribution and preventing premature wear. We offer four different varieties of pole setters, each designed with your specific application in mind. Furthermore, we provide mounts for a variety of machines, including skid steers, excavators, backhoes, wheel loaders, and telehandlers.
Invest in Excellence: Solaris Attachments
Choose Solaris Attachments for the ultimate pole-setting experience, backed by quality, innovation, and American pride. Solaris Attachments' Rotating Pole Setters epitomize the industry's efficiency, innovation, precision, and versatility.
Made with pride in the USA, these attachments redefine pole-setting, making them the ultimate choice for professionals across various sectors. Elevate your pole-setting projects to new heights with Solaris Attachments. Discover the best in pole-setting efficiency—choose Solaris Attachments today and contact us for a quote.