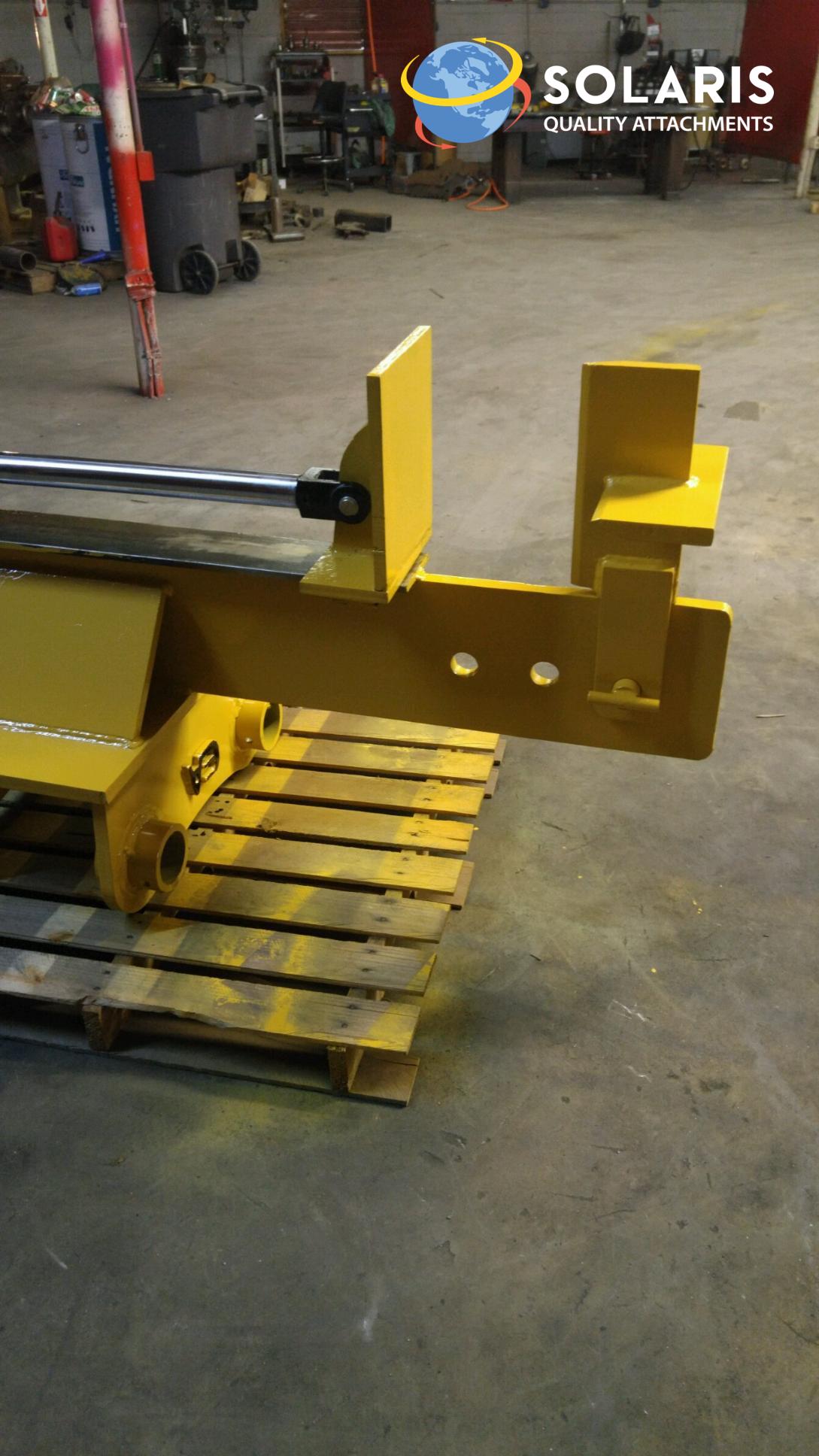 Delivered Standard with a 4-way splitter
Three models offered for different excavator weight classes
2-way & 6-way splitter heads are available and interchangeable
Does not include hoses or couplings
Uses Standard SAE8 connector
2-year limited warranty
100% made in the USA with US Steel!
Solaris Ramhead Excavator Log Splitter
Unleash Productivity and Reliability with the Solaris Ramhead Hydraulic Log Splitter
Are you in search of a hydraulic log splitter that offers both productivity and unwavering reliability for your compact, mid-sized or larger excavator? Look no further: the Solaris Ramhead Log Splitter is here to maximize your log-splitting productivity, regardless of your equipment's size.
Starting with mini excavators as compact as 6,000 lbs—think Kubota U27, John Deere 26G, Takeuchi tb230, Bobcat e26, CAT 302.7—the Solaris Ramhead Log Splitter allows you to tackle up to 36″ logs with ease. Its remarkable power and precision ensure that no log is too daunting.
Versatility at Your Fingertips
What sets the Solaris Ramhead Log Splitter apart is its versatility. Delivered standard with a 4-way splitting head, it grants you unparalleled flexibility. Need a smaller split for kindling? Switch to the 2-way head. Handling massive logs that demand precision? Opt for the 6-way head. The best part? These heads are interchangeable, offering you a variety of options to tailor your log splitting to the exact size you need.
Quick and Convenient
In a world where time is of the essence, the Solaris Ramhead Log Splitter is your ally. It's not just a powerhouse — it's a time-saver! Worried about lengthy lead times? Not anymore! These log splitters are proudly manufactured right here in the United States. With a swift lead time of only about 14 business days, you'll have your log splitter ready to tackle the toughest of tasks sooner than you may have thought. 
Unwavering Confidence with a 2-Year Warranty
Quality and reliability are non-negotiable for us at Solaris. That's why we back our Ramhead Hydraulic Log Splitter with a limited 2-year warranty. You're not just investing in a tool; you're investing in peace of mind. Our commitment to durability and performance means your log splitter is designed to stand the test of time.
Your Ultimate Excavator Attachment
If the Solaris Ramhead Hydraulic Log Splitter isn't already a part of your excavator attachment arsenal, now is the time to act. Experience unmatched productivity, reliability, and versatility—all in one compact package. Whether you're a contractor, arborist, or need to keep splitting logs for wood stoves during the cold seasons, the Solaris Ramhead Log Splitter is ready to transform your log splitting experience.
Give us a call today, and we'll ensure you're taken care of. Elevate your log splitting game with Solaris Attachments—the name that spells power, precision, and legendary customer service.
| Model | Excavator Weight Range | Max Log Diameter | Max Log Length | Splitter Heads |
| --- | --- | --- | --- | --- |
| RH-1 | 6,000 – 10,000 lbs. | 24″ | 36″ | 2, 4 or 6-way |
| RH-2 | 10,000 – 14,000 lbs. | 36″ | 42″ | 2, 4 or 6-way |
| RH-3 | 33,000 – 40,000 lbs. | 36″ | 48″ | 2, 4 or 6-way |