Auger Drives / Excavators 21MT TO 45MT
Solaris Auger Torque auger drives for 21-ton to 45-ton excavators is an ideal choice since it is made of premium quality material and has undergone a strict quality control process.
Our auger drives have been created to fit all models and make of the parent equipment and be used with a wide range of attachments and equipment. This versatile design allows our clients to easily swap drill bits between attachments, depending on the construction and landscaping project and ensuring the best performance and improved efficiency on site.
Auger Drives 48000-80
The Auger Drive 48000-80 comes with all the standard features that are available in the lower series of drills, as well as an extensive range of options, including the Solaris Auger Torque 2-Way Valve and a Pressure Relief Valve. High-quality hoses also come standard though quick hydraulic couplers are not included. That is because we recommend direct plumbing in order to avoid flow restrictions and to ensure the auger drives performs in the best possible way.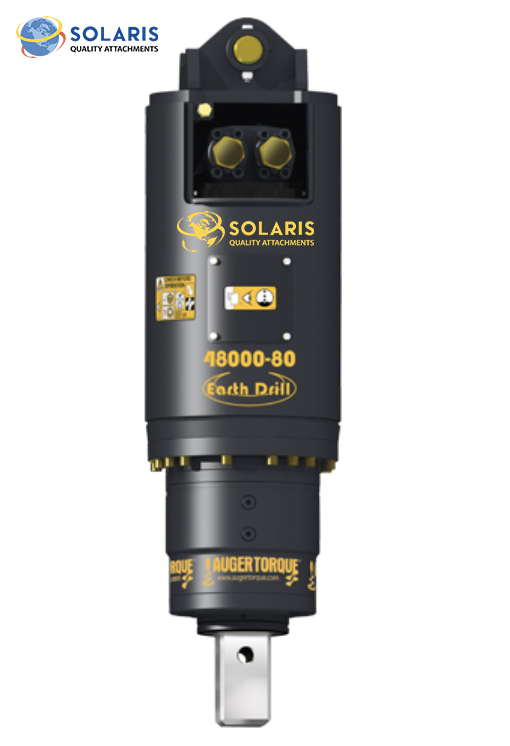 MODEL
48000-80
Carrier Weight
21-45 MT
Torque Range
24557 -49114 ft-lb
Oil Pressure Range
2321-4641 psi
Oil Flow Range
26.4-74.0 gpm
Speed Range
8-21 rpm
Hub Options
4.33 inch Square
Unit Height
61.26 inch
Shaft
4.33 inch Square
Hitch Options
Single Pin Hitch
Double Pin Cradle Hitch
Valve Options
2 Way Valve – Converts single acting hammer into a 2 way auxiliary flow