Auger Drives & Bits for Backhoes
Solaris-Auger Torque has been engineering and manufacturing auger drives and augers for over 25 years making our range of augers the most reliable, versatile, and efficient for tackling every size of job.
Backhoe Auger Drives: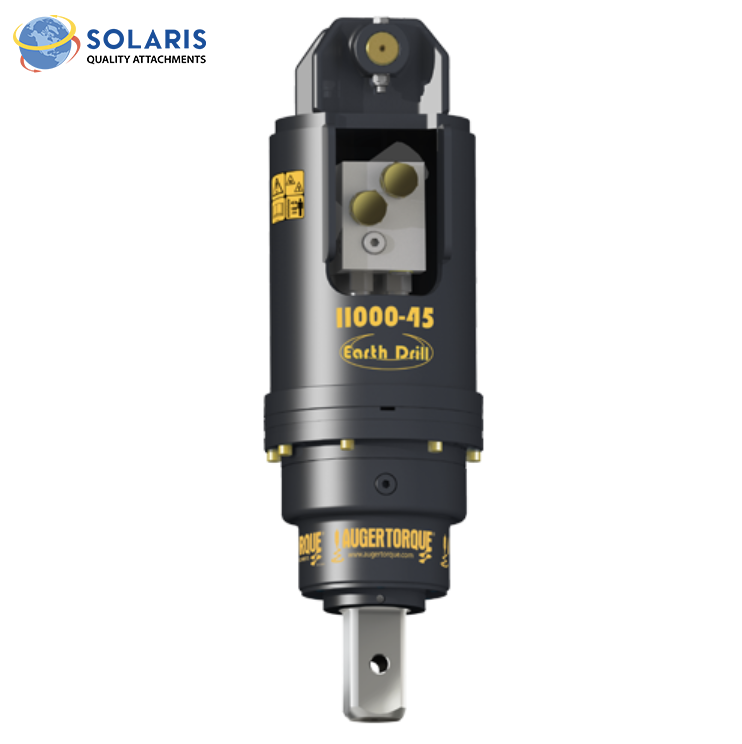 The Auger Drive 5200-35, 6000-40, and 11000-40 are the perfect choice for backhoes.
The backhoe range of Solaris-Auger Torque Auger Drives gives you peace of mind and efficiency, with the versatility to easily switch between attachments depending on the job at hand. High-quality hydraulic motors, output shaft bearings that are 50% larger than our nearest competitors' comparable drive, the use of only high-grade materials and the latest manufacturing techniques mean that this auger drive will give you the long, reliable service life you need. The 2-Way Valve is an optional extra on this series of auger drive and will enable you to convert a single-acting hammer circuit into the 2-way auxiliary flow.
FORGED HOOD EARS
Standard with all auger drives in areas that we know will take a lot of strain. All hood pins are locked for extra safety making it impossible for the hood to detach from your hitch.
EPICYCLIC GEARBOX
Torque is amplified by using the unique Auger Torque planetary gearbox. This system allows the motor's output torque to be multiplied with extreme efficiency as well as ensuring the durability and reliability you need.
NON-DISLODGEMENT SHAFT
Unique to Auger Torque, the Non-Dislodgement Shaft is a single-piece drive shaft assembled top down and locked into the auger drive housing. This design guarantees that the shaft will never fall out, making for a safer work environment, not only for the operator but also any surrounding workers, a MUST-HAVE FEATURE for any safety-conscious company.
HIGH-QUALITY HYDRAULIC MOTORS
Auger Torque's huge buying power means we work closely with high-quality suppliers to develop the most reliable attachments available on the market today.
HOSES AND ADAPTORS
All auger drives come standard with high-quality hoses and adaptors (excludes larger units. QRC's not included).
All Solaris-Auger Torque attachments and equipment are warranted to be free from material, mechanical, or workmanship defects for a certain time (summarized below).
Planetary Gearbox: 72 months
Hydraulic Motors: 36 months
Other Parts and Products: 24 months
Note: The warranty is only valid if the product is attached, assembled, and used appropriately, according to the directions provided in the operator's manuals and other instructions. The warranty period will start from the date of sale by the distributor or manufacturer.
Product Specifications

Model
5200-35
6000-40
11000-40
Torque Range
1573-5112 ft-lb
2004-6012 ft-lb
2948-8847 ft-lb
Oil Pressure Range
1160-3771 psi
1160-3481 psi
1160-3481 psi
Oil Flow Range
16-36 gpm
19-40 gpm
19-40 gpm
Speed Range
36-81 rpm
33-70 rpm
25-54 rpm
Unit Height
31 inch
31 inch
37 inch
Unit Diameter
11 inch
11 inch
12 inch
Unit Weight
247 lb
260 lb
279 lb
Hub Options
2.5 inch Hex
2.5 inch Hex
2.96 inch Square
Hitch Options
Single Pin Hitch
Double Pin Hitch
Cradle Hitch
Single Pin Hitch
Double Pin Hitch
Cradle Hitch
Single Pin Hitch
Double Pin Hitch
Cradle Hitch
| Drilling Performance | 5200-35 | 6000-40 | 11000-40 |
| --- | --- | --- | --- |
| Auger Series | S5 | S5 | S6 |
| Auger Diameter | 5-2.1 inch | 6-2.4 inch | 6-48 inch |
| Drilling Depth* | 16-7 ft | 20-8 ft | 25-12 ft |
Backhoe Auger Bits:
Need a quote? Call us at (888) 754-3609
-or-
Fill out the form below: