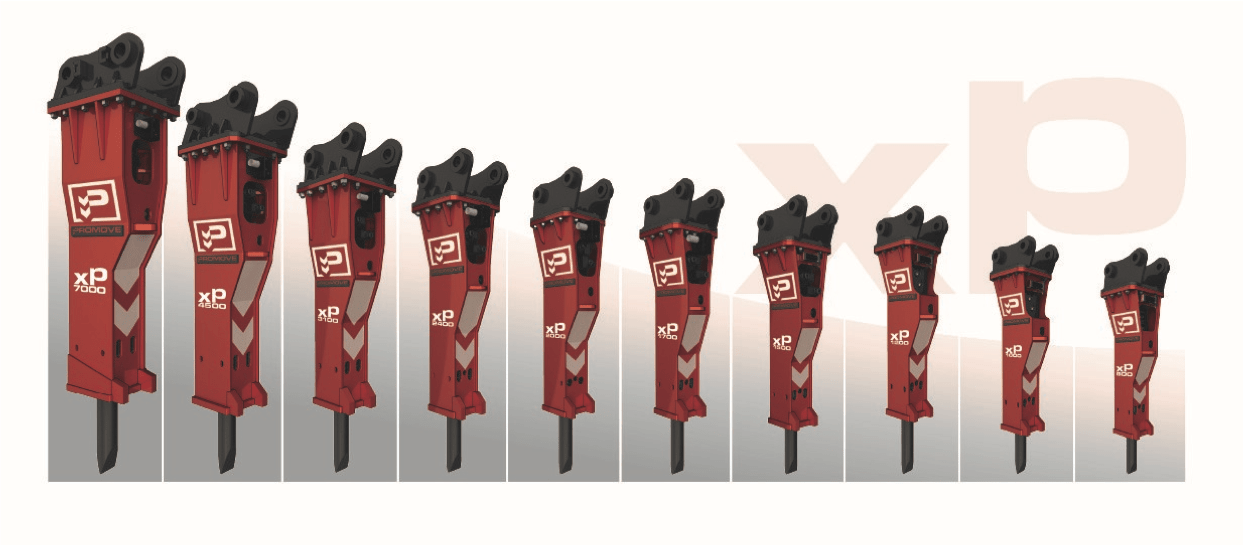 The light range breakers by Promove feature the optional Smart Valve. The plug-and-play range of Promove's hydraulic hammers features the patent-pending Smart Valve technology that protects the hammer from overflow and pressure peaks and extends the carrier's matching range. This innovation will extend the life span of the hammer, reduce the maintenance cost and will save you significant time when installing the hammer. The hammer becomes auto-installing – perfect for equipment rental companies.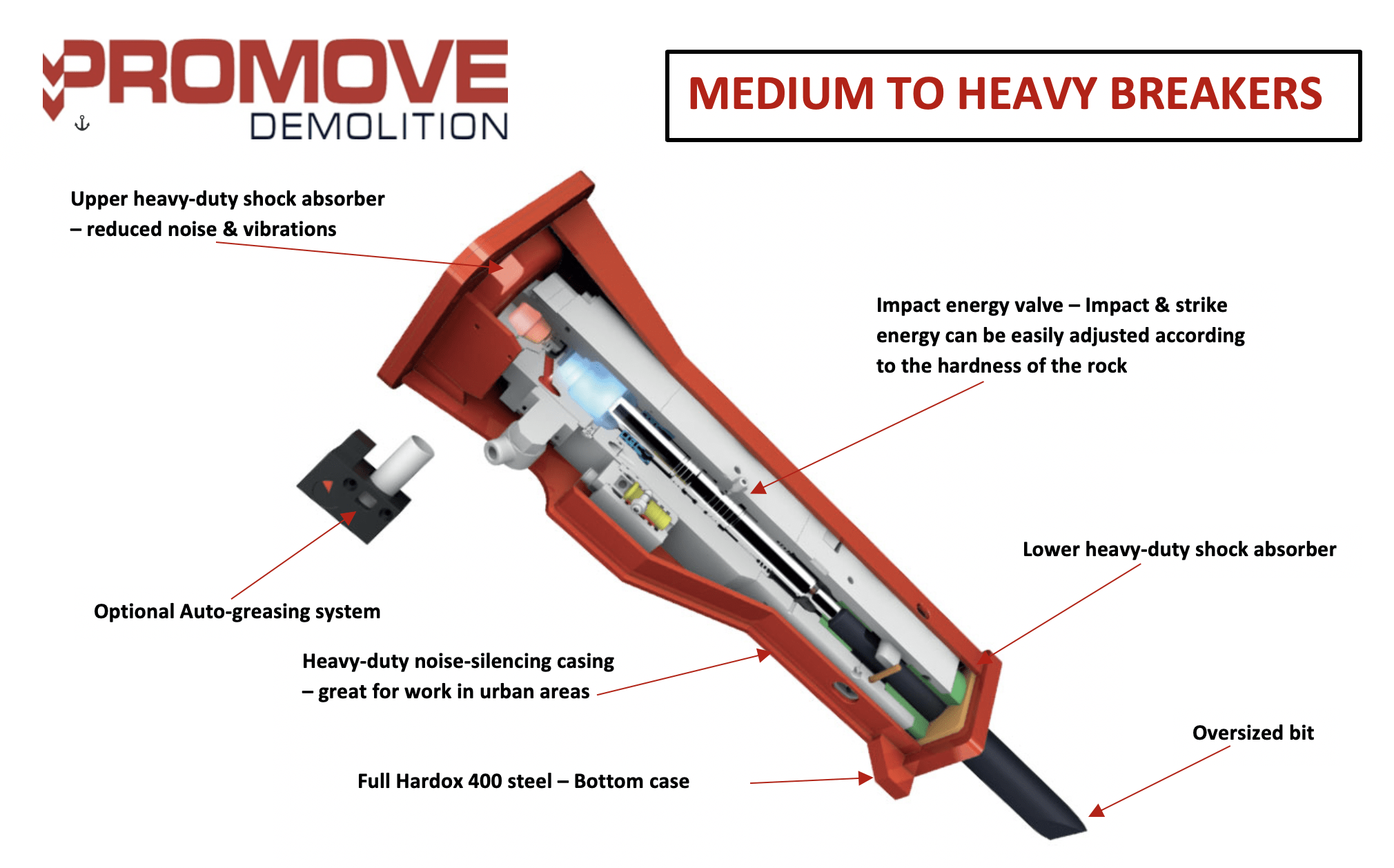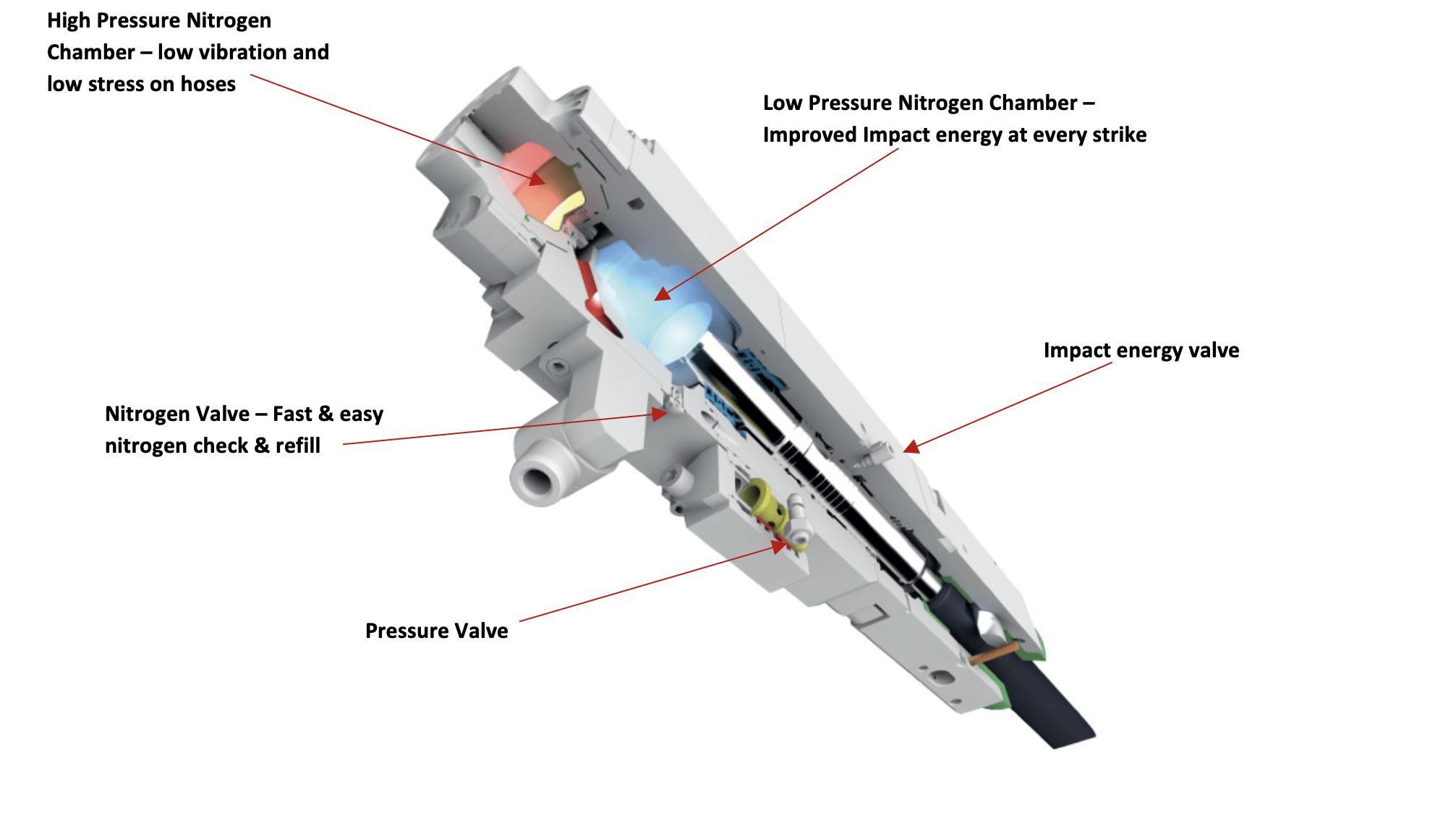 Hydraulic breakers are one of today's most sought-after attachments for the excavator, skid steer and backhoe. This construction attachment becomes an absolute necessity when it comes to excavating foundations, demolition, trenching, quarrying, tunneling and road construction. These breaker attachments, also known as hydraulic hammers, have become more sophisticated over time. We now offer them in many types and sizes to fit mini excavators as well as medium and heavy excavators. They are also offered as skid steer attachments, for both standard and high flow skid steers and track loaders. Several models are also offered for backhoes to make breaker attachments even more versatile.
Solaris offers hydraulic breakers made by Promove Demolition. These are the finest, hardest-hitting, most durable breaker attachments available in the market today. The combined power from gas and hydraulic fluid offers a far greater and consistent strike force for every breaker we offer – the best performance to weight ratio in the industry! Additionally, this technology significantly reduces hydraulic hose stress & vibrations for the excavator, reduced noise on the jobsite — which is very important in urban environments and overall increased lifespan and lower maintenance for the attachment itself. 
Our breaker attachments are offered in two categories: 'Light Range Breakers' which offer a variety of seven different sizes – all for mini-excavators, skid steers and backhoes and a second category of 'Medium to Heavy Breakers', featuring an additional 10 excavator attachments for heavier machines. 
The Light Range Breakers also feature an optional, patent-pending Smart Valve. This "plug-and-play" device protects the breaker attachment from overflow and pressure peaks and extends the machine's flow range. This innovation extends the life of the breaker attachment, reduces maintenance costs and significantly increases the life of the breaker. The breaker thus becomes auto-installing – perfect for rental dealers!
The Medium to Heavy line of breakers offers an optional auto-greasing system – a virtually worry-free reservoir for grease which automatically knows how much to add and when. Again – this also significantly increases the life of the breaker attachment while reducing downtime and maintenance costs. 
Promove Demolition breakers are the ONLY way to effectively increase your bottom line as a Demolition or Mining Contractor. Call us today for more info, set up a demo or fill out our short form.