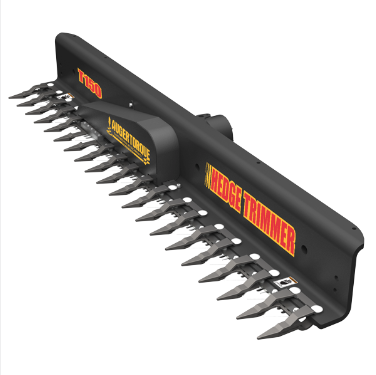 Hedge Trimmers
The Solaris-Auger Torque Hedge Trimmer is the perfect solution for a neat and accurate cut, every time.
The Solaris-Auger Torque hedge trimmer is the perfect addition for excavators (3300 – 17650 lbs) and offers a variety of motor sizes to suit your application. Attaching the hedge trimmer to an excavator provides extra-long cutting reach, gaining access to those taller trees, deeper hedges, and hard-to-reach shrubbery. The hedge trimmer is also ideal for cutting long grass and brush. Attaching the optional tooth extension bar provides a full 60-inch cutting length, helping you make trimming more precise, and efficient, and will provide yet another way to expand the versatility of your existing machines.
60-inch cutting length
Optional 40-inch cutting extension bar
Cuts up to 1.58-inch diameter
Replace individual cutting teeth as required
Hoses included
Delivered ready to use
All Solaris-Auger Torque attachments and equipment are warranted to be free from material, mechanical, or workmanship defects for a certain time (summarized below).
Planetary Gearbox: 72 months
Hydraulic Motors: 36 months
Other Parts and Products: 24 months
Note: The warranty is only valid if the product is attached, assembled, and used appropriately, according to the directions provided in the operator's manuals and other instructions. The warranty period will start from the date of sale by the distributor or manufacturer.
Specifications:
T150 Hedge Trimmer
Extension
Offset Mount
50cc Motor Variant Suited to
Excavators 3300 – 5512 lbs
Skidsteer Loaders
N/A
N/A
50cc Motor Variant Oil Pressure Range
2176-3191 psi
N/A
N/A
50cc Motor Variant Oil Flow Range
7.9-12.7 gpm
N/A
N/A
50cc Motor Variant Max Cutting Diameter
0.98″
N/A
N/A
80cc Motor Variant Suited to
Excavators 5512 – 9920 lbs
Skidsteer Loaders
N/A
N/A
80cc Motor Variant Oil Pressure Range
2176-3191 psi
N/A
N/A
80cc Motor Variant Oil Flow Range
10.6 – 18.0 gpm
N/A
N/A
80cc Motor Variant Max Cutting Diameter
1.58″
N/A
N/A
100cc Motor Variant Suited to
Excavators 9920-17600 lbs
Skidsteer Loaders
N/A
N/A
100cc Motor Variant Oil Flow Range
13.2-18.8 gpm
N/A
N/A
Max Cutting Diameter
1.58″
1.58″
N/A
Max Back Pressure
290 psi
N/A
N/A
Hose Port Diameter
1/2″ BSP
N/A
N/A
Cutting Length
60″
40″ (Combined Cutting Length: 100″)
N/A
Max Offset Distance
N/A
N/A
N/A
Cutting Angle
N/A
N/A
Horizontal thru Vertical
Operating Voltage
N/A
N/A
12V
Dimensions
7.99″ x 60.5″ x 10.61″ (H x W x D)
4.65″ x 46.93″ x 8.86″ (H x W x D)
16.46″ x 9.69″ x 59.33″ (H x W x L)
Weight
152 lbs
57.3 lbs
124 lbs
Gallery:
Video: