Cold Planers for Excavators
At Solaris Attachment, we offer you a range of high-quality, durable, and reliable roadline attachments for excavators for milling work in various projects. Our roadline attachments for excavators come with competitive pricing without compromising the quality of the attachment.
Our swinging planer is equipped with replaceable carbide teeth that are durable and last for several years. Our excavator attachments are highly resilient and reliable and can ensure an increase in productivity.
▼▼▼ SCROLL DOWN TO LEARN MORE ▼▼▼
Meet Our Cold Planers for Excavators
Solaris cold planers are designed for milling pre-set sections on compact and hard surfaces like cement and asphalt and are highly efficient at preparing trenches or for milling destroyed material for resurfacing.
These panels are highly flexible and allow you to work on vertical, horizontal, and sloped surfaces.
We offer four different sizes that can fit excavators starting at only 6,600 lbs.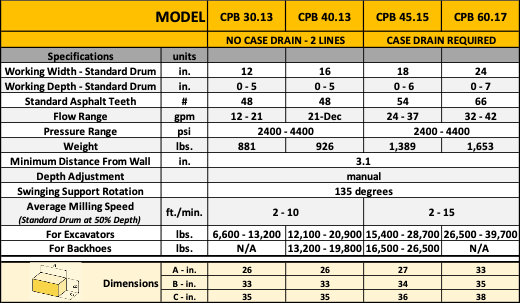 Solaris Cold Planers Key Features:
Heavy Duty Construction: The Solaris cold planers have a heavy-duty and durable construction, ensuring ruggedness and reliabilityComponents: Asphalt picks equipped on a standard drumApplication: Engineered to mill fixed sections of compact and hard surfacesReduced Environmental Impact: Planers are designed to allow the possibility of reusing milled material in order to backfill trenches, reducing the impact on the environmentSwinging Support: Swinging support pivoted on the cutter drum's rotation axis ensures perfect planning surface in any type of surface conditionIndependent Depth Adjustment: Offers more adaptability and flexibility with mechanical left-hand and right-hand depth adjustments with skid frame and thread bar, resulting in a perfectly plane and level surface.Linkage to Dipper Stick: Swinging frame linked to the dipper stick with a flat plate with holes for boltsBetter Precision: Heavy-duty construction that handles easily due to swinging support, which ensures improved accuracy on any working surfaceBetter Versatility: The roadline attachments work well on any type of surface, including vertical, horizontal, and sloped.

Perfect Flat Plans: Thanks to its flanked passes, it is easy to get a perfectly level working area.

Hydraulic Piston Motors: Hydraulic piston motors are equipped with direct cutter drums to ensure high efficiency and faster work.

Lateral Support Slides: The roadline attachment comes with lateral support slides for minimum spillage of material and optimal stability.

Low Maintenance Cost: The roadline attachment has a very low maintenance cost. If any teeth are broken, we can replace them easily as they are readily available and in stock.

Looking to buy a reliable and durable roadline attachment for excavators? Order from Solaris Attachments.