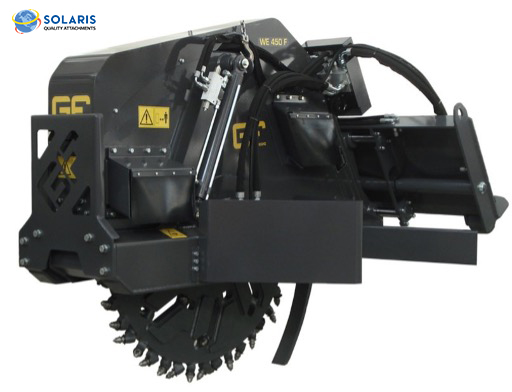 Product Line // Solaris Wheel Trenchers for Skid Steer Loaders
Solaris Attachments now offers two different models of commercial grade wheel trenchers for skid steers, wheel loaders and backhoes With each model you will enjoy performance, rugged reliability and durability. Each model features a manual depth adjustment. These wheel trenchers feature hydraulic piston motors so you can enjoy a high cut power as well as efficiency and productivity in cutting your trench accurately. This system is designed for optimum visibility and stability in any condition. Both models offer a hydraulic trench-cleaning kit so you can cut a clean trench with minimal debris left behind.
▼▼▼ SCROLL DOWN TO LEARN MORE ▼▼▼
Meet Our Wheel Trenchers for Skid Steer Loaders
Solaris Wheel Trenchers
If you are looking for a reasonably priced, durable wheel trencher with replaceable carbide teeth that will last you many years, this is the one! These skid steer attachments are made to work 24/7/365 and will increase your productivity. Rental dealers will benefit from these industrial wheel trenchers as well due to their reliability and rugged, heavy-duty construction.
Speak with one of our attachment consultants today!
We offer two different sizes that can fit any skid steer, wheel loader or backhoe. Whether you have a standard flow, hi-flow or lighter skid steer (minimum 7,000 lbs.), we offer the perfect wheel trencher for your needs.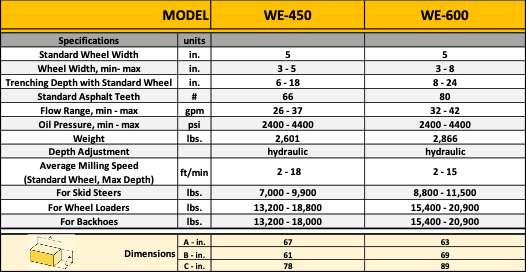 Solaris Wheel Trencher Key Features:
Use on Asphalt or Concrete
Hydraulic Depth Adjustment
Hydraulic Side Shift
Optimal Stability & Visibility in any condition
Powerful Piston Motor provides optimal hi-cut power
Hydraulic Trench Cleanout
Leave Behind a Clean Trench