Excavator Rotating Base Product Range
Solaris Rotating Excavator Base
At Solaris Attachments, we offer you the best-quality rotating excavator  base built with engineering excellence after undergoing the toughest quality assurance.
Solaris excavator  base is the perfect multi-purpose attachment for excavators. One of the major aspects of an excavator rotating base is its ability to rotate the arm and housing in all directions, which allows it to effortlessly pick up road debris, rocks, and trees.
The Solaris rotating base can be equipped with a Rock and Tree hand, which offers a lot of versatility and flexibility when it comes to cleaning up construction sites. The rotating base is a very powerful, durable, and precise tool that can easily handle heavy material safely and securely.
The product is made of heavy-duty material that can withstand a huge amount of load, thanks to the state-of-the-art manufacturing and quality assurance process it goes through. With the right setup and machine attachment, the excavator rotating base will offer 200 degrees of rotation and will ensure optimal performance and efficiency on the job site.
Key Features:
Let's take a look at some of the major features of the rotating excavator  base:
Weight: The attachment weighs 270 pounds.
Compatibility: The base offers a lot of flexibility and allows you to hitch any tool head to the rotating basis. All the materials that handle skid steer attachments are compatible with mini excavators as well and made into attachments for excavators, making it a very versatile tool on the job site.
Improved Efficiency: The Solaris excavator rotating base comes with a Rock and Tree hand that makes it very easy to clean up debris and pick up large objects from the path, like boulders and tree trunks. This ensures improved efficiency, and you can work without delay on the job site.
Increased Convenience: One of the product's most significant benefits is that you do not need to remove large debris manually. The construction crew can sit in a climate-controlled cab and comfortably and safely work from inside it.
Improved Safety: It is much easier to build retaining walls and other types of construction with an excavator rotating base. Now construction crews no longer need to worry about prying bars or getting pinched fingers, and contractors no longer need to worry about worker's compensation claims.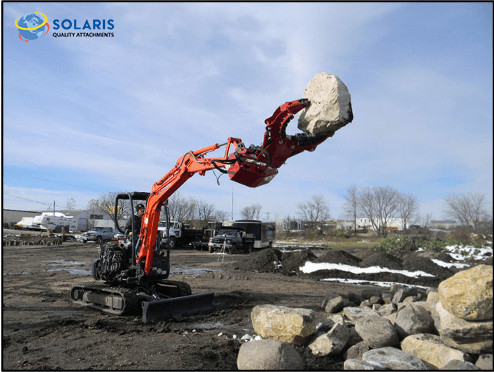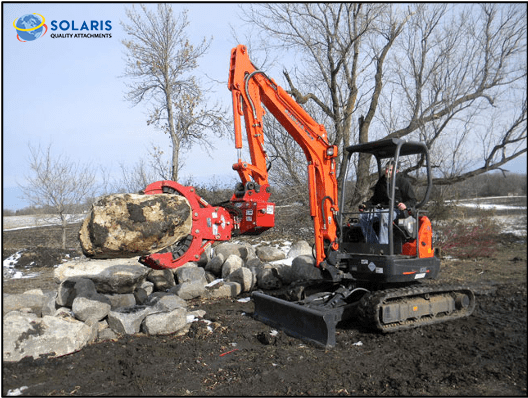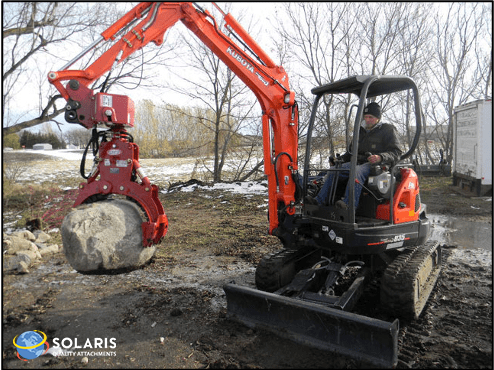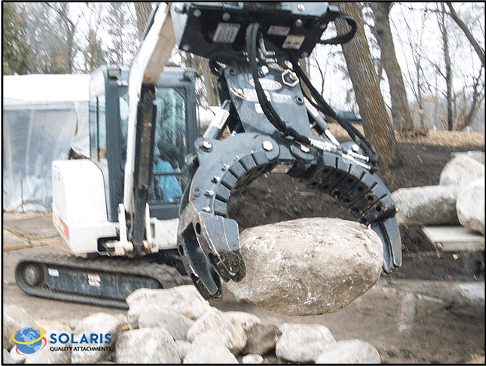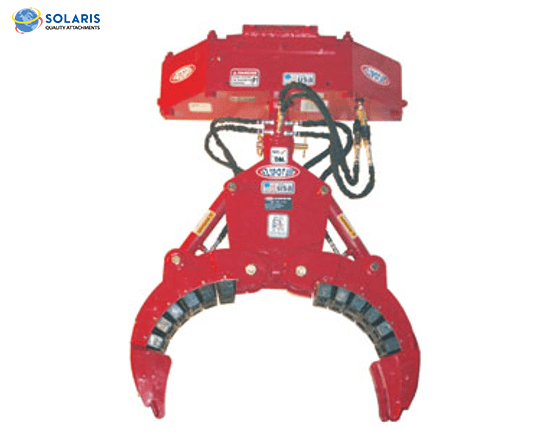 Don't forget about our financing options! Click Here for more information and discover all the different options we make available to make this a worry-free investment.