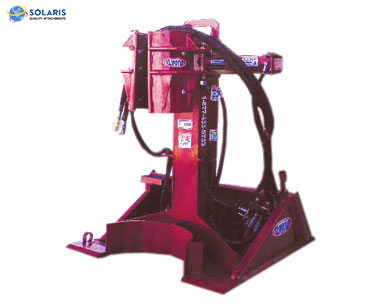 Pole Jack Attachment for Skid Steer
The Solaris Skid Steer Pole Jack attachments allow just one operator to safely and efficiently extract poles up to 90 feet in length. The rubber lining allows you to extract wood, metal, aluminum or plastic-covered poles. Jaws open from 9 inches all the way to 31 inches. You can purchase inserts to close all the way to zero inches.
The Solaris skid steer pole jack attachments are equipped with a universal quick-attach adapter. They can also be modified to fit excavators and telehandlers. Two large 3 X 6-inch clamp cylinders and metal teeth on the jaws securely hold the pole during extraction. The Solaris skid steer pole jack attachment can remove all types of poles, including cleated and foamed poles. Each Solaris skid steer pole jack attachment is designed with two jaws that open and close independently, offering the operator a significant increase in safety and pole-handling security. Each jaw is also equipped with a rubber lining to protect the pole. The clamping is activated by two 3" X 6" cylinders and can be adjusted to regulate clamp pressure. All of our skid steer pole jack attachments are delivered complete with wiring harnesses, spring hose mounts and flush-faced couplers.
This Solaris Skid Steer attachment is used in the following industries: Solar Panel Installation, Residential Wind Tower Installation, Pole Barns and Pole Buildings, Fencing, Foundation Industry, Electrical and Plumbing, Mining, Oil Fields and Pipeline, Pilings and Shoring, Forestry, Parks & Recreation, DOT and Government Projects and many more.
These high-quality attachments are 100% made in the US and are made of grade 80 material or higher for incredible ruggedness, durability and reliability. Attaches to any skid steer with a universal quick-attach plate.