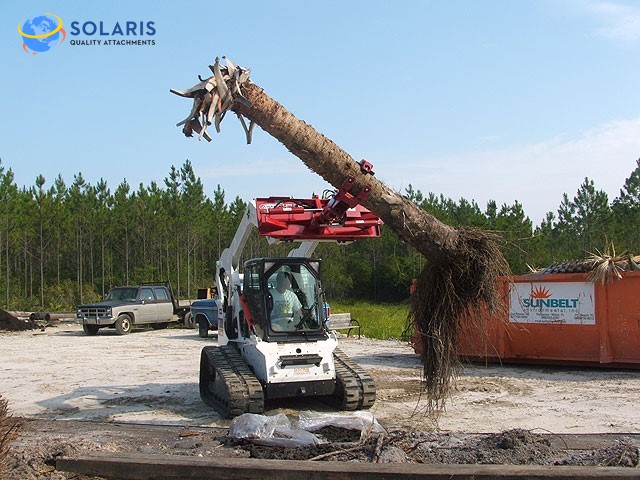 Solaris Rotating Rock & Brush Grapple
When it comes to efficiently handling large and awkward items such as poles, pipes, concrete, trees, and more, the Rotating Rock & Brush Grapple by Solaris Attachments offers an efficient & cost-effective solution. Made in the USA, this excavator and skid steer attachment gives the operator unparalleled versatility, allowing you to rotate up to 127 degrees—a feature that can significantly increase the efficiency of your operations and save you both time and money.
Made in the USA: Solaris Attachments takes immense pride in delivering attachments that are proudly manufactured in the United States. Our commitment to quality and excellence shines through in every Rotating Rock & Brush Grapple we produce and is backed by Solaris 2-year warranty.
127 Degrees of Rotation: The standout feature of this grapple is its remarkable 127-degree rotational capability. With the ability to rotate items, you gain precise control and unmatched efficiency in handling a wide range of materials.
The Solaris Rotating Rock & Brush Grapple for skid steers & excavators is a versatile workhorse with applications that span a multitude of industries:
Hazardous Waste Removal: Efficiently and safely handle hazardous waste materials, minimizing risks and enhancing your waste removal process.
Oil & Gas Industry: From pipes to equipment, the Solaris Rock & Brush Grapple for excavators and skid steers aids in the efficient handling of heavy components within the oil and gas sector.
Scrap Yards: Streamline operations in scrap yards by effortlessly moving bulky and awkwardly shaped metal items.
Recycling: Enhance recycling processes by easily managing materials like large piles of paper, cardboard, and plastics.
Pipeline Industry: Simplify pipeline maintenance and construction by handling pipes and equipment effortlessly with your skid steer or excavator.
Concrete Industry: Manage heavy concrete components and debris efficiently during construction and demolition projects with your skid steer or excavator.
Government Entities: Government entities such as cities, towns and other municipalities can benefit from the versatility of the grapple in various applications, from disaster response to public works projects – a perfect skid steer, tractor, or excavator attachment!
Enhanced Maneuverability: The 127-degree rotation capability means that you can precisely position materials or items, reducing the need for additional equipment or manual labor.
Increased Production: The Solaris Rotating Rock & Brush Grapple's efficiency translates to faster task completion, ultimately saving you valuable time on the job.
Cost Effectiveness: By streamlining your material handling processes, this grapple allows you to make the most of your resources, not only by reducing operational costs, but you will also like the reasonable price and lead times we offer.
Awkward Shapes – No Problem: Whether you're dealing with poles, pipes, concrete blocks, or trees, this skid steer or excavator attachment provides the versatility needed to tackle any challenge.
Improved Safety: Efficient material handling minimizes the risk of accidents, ensuring the safety of your operators and worksite.
Optimal Load Distribution: The grapple's rotation capability allows for precise placement of items, optimizing load distribution and preventing damage.
The Solaris Rotating Rock & Brush Grapple for excavator and skid steers is a testament to efficiency and versatility. Made in the USA and capable of rotating items up to 127 degrees, it is a vital asset across industries, from hazardous waste removal to the oil & gas sector, recycling, and government applications. With time and cost savings at its core, this skid steer & excavator grapple allows operators to handle awkwardly shaped and heavy materials with precision. Invest in the Rotating Rock & Brush Grapple and elevate your material handling capabilities to new heights. Call us today at (888) 754-3609 or fill out the form below!