Unlock Efficiency and Versatility with Solaris Auger Torque Drives for Telehandlers
Are you seeking a reliable and efficient solution to elevate your telehandler's performance? Look no further than Solaris Auger Torque Drives and Bits! Our exceptional range of Auger Systems, including the 4000-30, 5200-35, and 6000-40 drives, is tailor-made for high-flow telehandlers ranging from 4.5MT (9,900 lbs.) to 8MT (17,600 lbs.). Here are some of the features and advantages of Solaris Auger Torque systems and how they can take your telehandler to the next level.
The Perfect Choice for Your Telehandler: Auger Drives & Bits
Solaris-Auger Torque takes pride in offering the perfect upgrade for your telehandler. Our Auger Drives and Bits are meticulously designed to provide unrivaled efficiency and versatility. Whether you're working on a construction site, landscaping project, or any other demanding task, these high-quality attachments will meet your needs with ease.
The Solaris Auger Drives 4000-30, 5200-35, and 6000-40 are your telehandler's best friends when it comes to handling a broad spectrum of projects. These Auger Drives and Bits are specially crafted to adapt seamlessly to your telehandler, giving you the freedom to switch between attachments effortlessly. This versatility is a game-changer, allowing you to tackle various tasks without the need for multiple machines. Say goodbye to the hassle of constantly switching equipment and hello to productivity.
Experience Peace of Mind with Solaris Auger Torque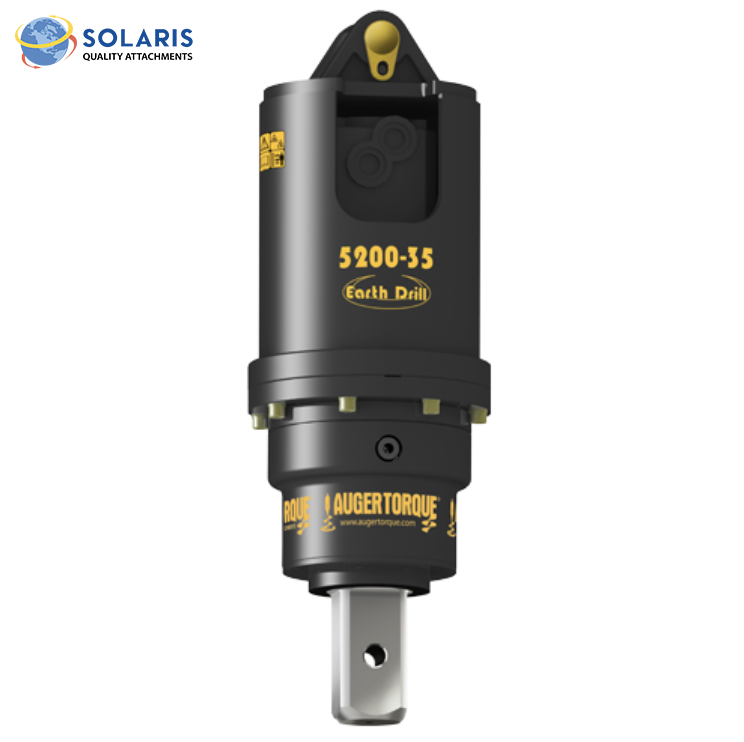 Our commitment to excellence is evident in every aspect of our Auger Drives and Bits. With Solaris-Auger Torque, you can trust that your telehandler is in safe hands. Our high-quality hydraulic motors are designed to deliver top-notch performance and reliability. These powerful motors ensure that your telehandler operates smoothly, efficiently, and without a hitch. That's why we back up our planetary gear drives with a 6-year warranty!
But that's not all; our Auger Drives and Bits boast output shaft bearings that are an impressive 50% larger than those found in comparable drives offered by our closest competitors. This larger bearing size means increased durability and longevity, ensuring that our products can withstand even the harshest working conditions. With Solaris-Auger Torque, you're not only investing in efficiency but also in peace of mind.
Superior Quality: Solaris Auger Torque Auger Drives & Bits
What sets Solaris Auger Torque apart from the rest is our unwavering dedication to quality. We use only the finest materials, and our manufacturing techniques are second to none. This dedication to quality guarantees that our Auger Drives and Bits are built to last, providing you with a dependable service life that outshines the competition.
When you choose Solaris Auger Torque Auger Drives and Bits for your telehandler, you're making a wise investment in your business's long-term success. Our superior manufacturing techniques and top-grade materials ensure that your telehandler will perform at its best, even in the most demanding environments. Say goodbye to costly downtime and hello to better productivity and profitability.
Ready to maximize your telehandler's potential? Contact us today at (888) 754-3609 or fill out the form below.
Need a quote? Call us at (888) 754-3609
-or-
Fill out the form below: