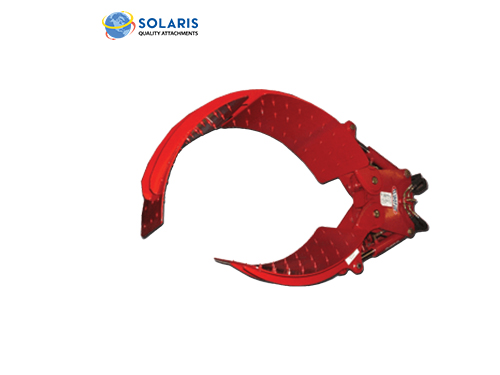 Pot Handler Attachment for Skid Steer
The Solaris Pot Handlers are the ideal multi-purpose attachments. Originally designed to handle barrels, the Solaris Pot Handlers are used for many more applications, particularly with landscaping and large nurseries.  Precise and Powerful, these are the perfect tools to handle heavy and awkward objects that need an accurate set-up. Mounted on a rotating base, they will rotate up to 127 degrees, and open up very wide.
The Solaris Pot Handlers' unique design insures even clamping pressure, preventing slippage. With the Solaris Pot Handlers, the operator can easily pick up large pots, square pots, or two pots at a time and place them where needed and position them the way they want! This skid steer attachment fits all skid steers with universal quick-attach adapters.
The powerful Solaris Skid Steer Pot Handlers allow the owner to move all types of potted nursery stock, even with large, standing trees! The inside of the Solaris Pot Handlers is can be lined with rubber linings to protect your stock from damage. The Solaris Pot Handlers are made of 3/8" steel, grade 50 or higher. The clamping is activated by two 3" X 6" cylinders which can be adjusted to handle even the most delicate material. The Pot Handlers include the big single-pot handler, square pot handler and double pot handler and can be attached to a skid steer or excavator rotator so you can also use it on excavators!
Perfect for a Variety of Industries
Landscaping

Land-clearing

Nurseries

Farming

Forestry

Parks and Recreation

Government

DOT Projects

and so much more!